At Art Boulle, we understand that doors play an important role in defining the aesthetics of an interior and augmenting the existing decor. Our luxury interior designers specialize in creating custom-made doors for our clients, offering the perfect combination of aesthetic charm and utility.
The range of door styles available at Art Boulle are incredibly diverse – from panels featuring intricate carvings and classic designs to contemporary styles with clean lines and smooth finishes, Art Boulle can design and create it all.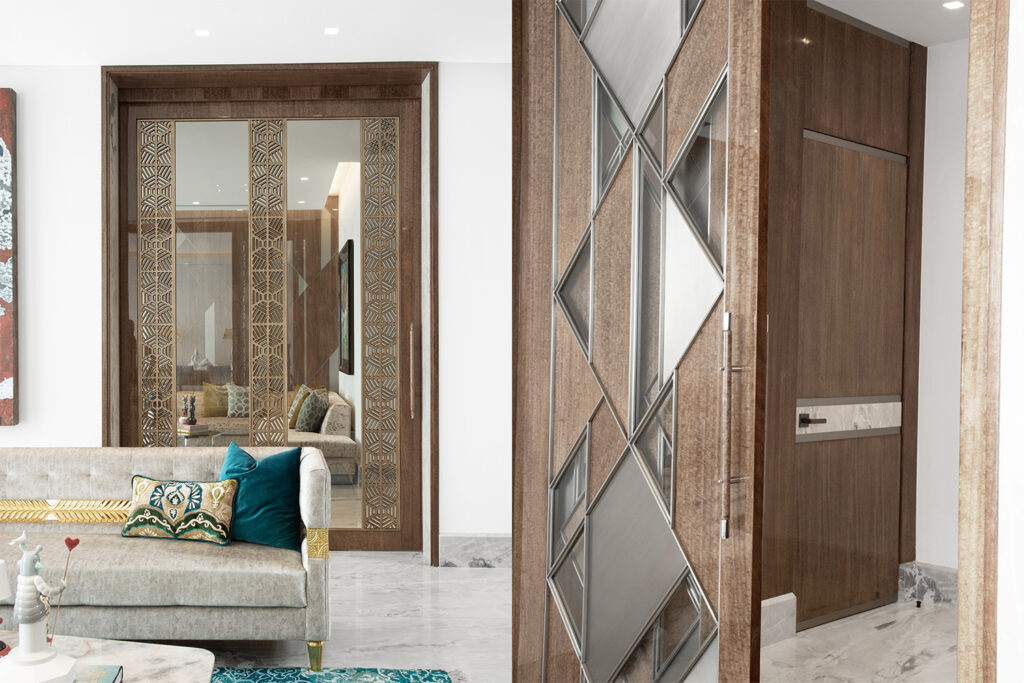 We use a wide selection of materials such as solid wood, metal, glass, and stone to create unique custom-made designs that cater to all kinds of spaces with different design needs.
Our classic door styles feature intricate details like pearl shells, forged metals, fused gold leaves, metal accents, wood carvings and hand-painted finishes. We also offer modern pieces crafted with clean lines and smooth surfaces in neutral or vibrant colors.
Whether you prefer a classic look or something more contemporary, our team can work closely with you to create a door style that truly reflects your personal taste and fits perfectly into your home's overall decor scheme.
Wooden Door style
Our solid wood doors are both elegant and unique, featuring intricate detailed carving and craftsmanship that will add sophistication to any home.
Whether you want the classic feel of a paneled door or the sleek lines of a modern design, our wooden doors can be tailored to suit your exact preferences.
We have also previously incorporated decorative, plush upholstery for added luxury.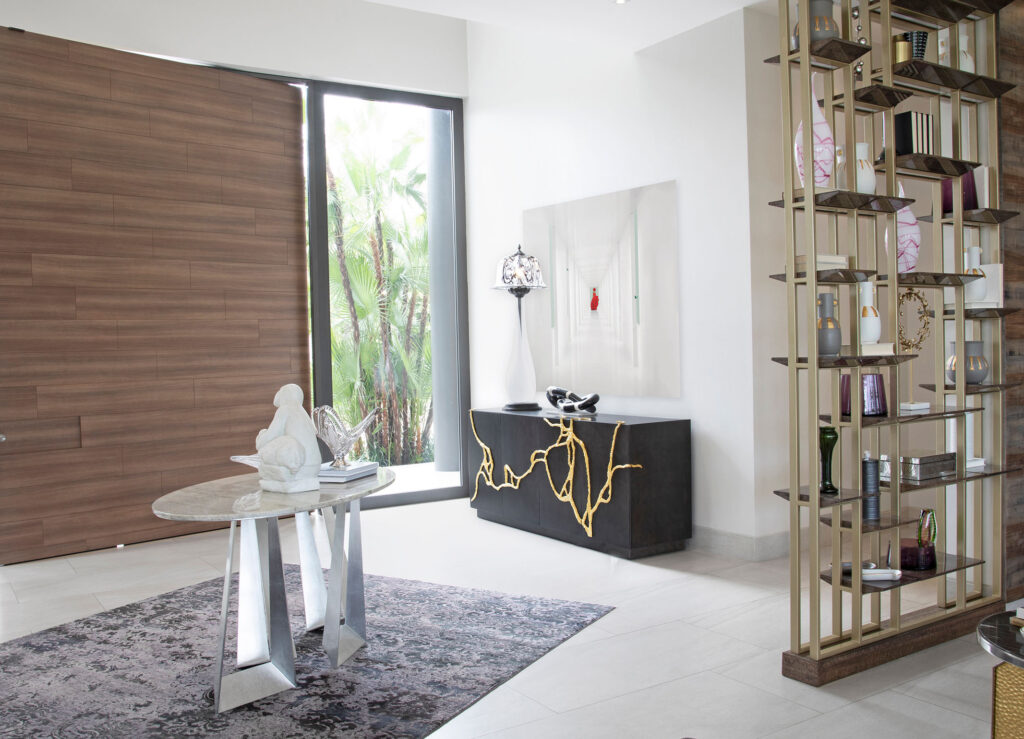 Interior Pivot Door Styles
Pivot doors are a great option for homeowners looking to add convenience and style to their entryways. However, there are certain requirements that must be met in order for the door to be suitable for installation with a pivot system.
The most important of these is the choice of material; it must be a solid wood construction that is thick enough to properly support the hinges and mechanisms.
For those looking for something more innovative, we create interior pivot door designs that offer unique pivoting mechanisms as well as interesting shapes and sizes.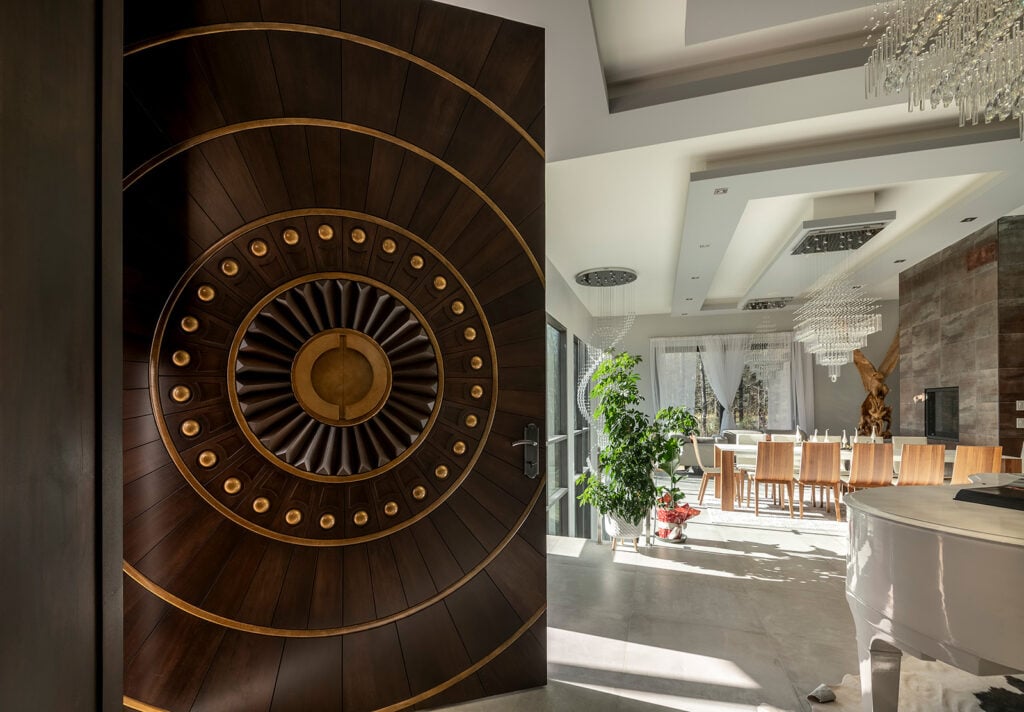 Pocket Doors
Pocket doors have historically been coveted as elegant, sumptuous fixtures in homes, and we can see why. They provide an effortless blend of form and function; they are easy to open and close while imparting a sense of sophistication.
Furthermore, pocket doors offer space-saving advantages as they allow access to areas without impacting the flow of a room since the door panel is housed inside the wall when open. And when closed, pocket doors provide privacy without blocking out light from surrounding windows or obstructing décor due to their thin profiles.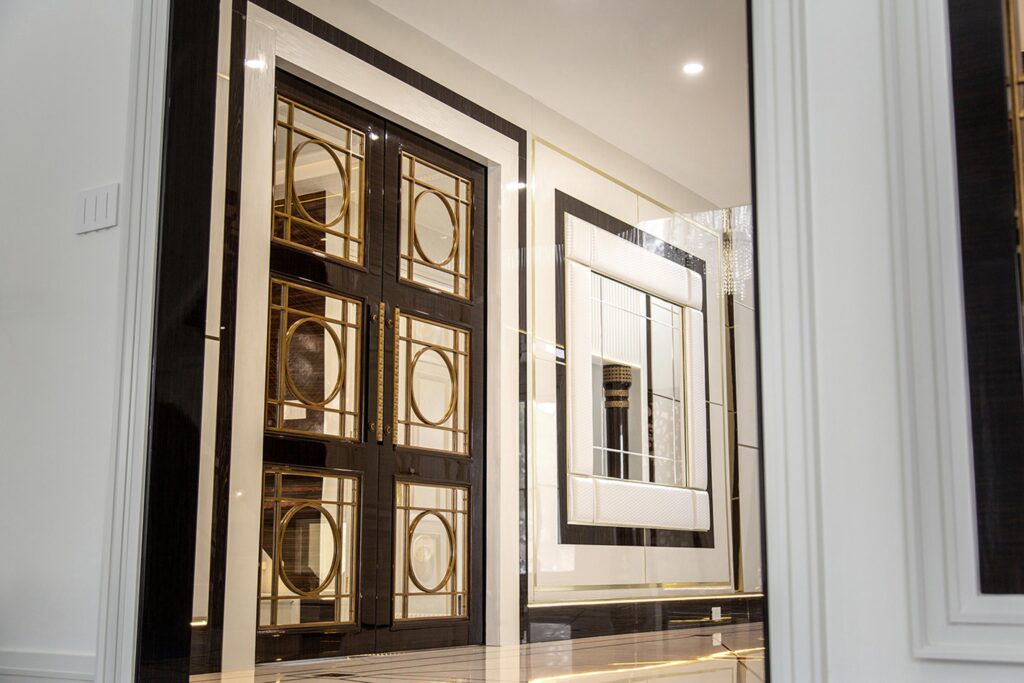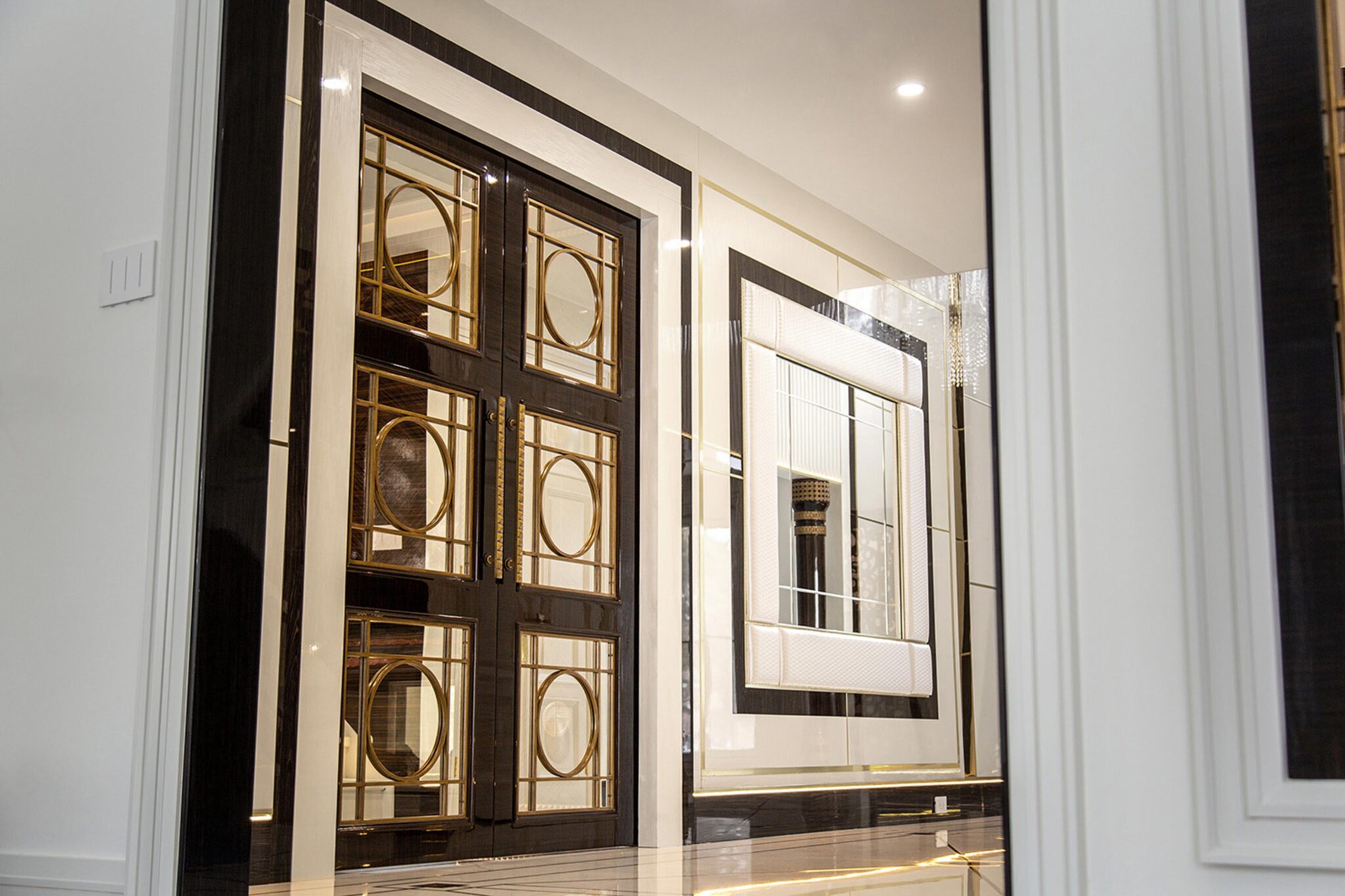 Oversized Doors
Interior oversized doors give an airy feeling to any room while metal door designs make for a strong statement of strength and durability. Oversized interior doors create for grand entrances, for example to a living room.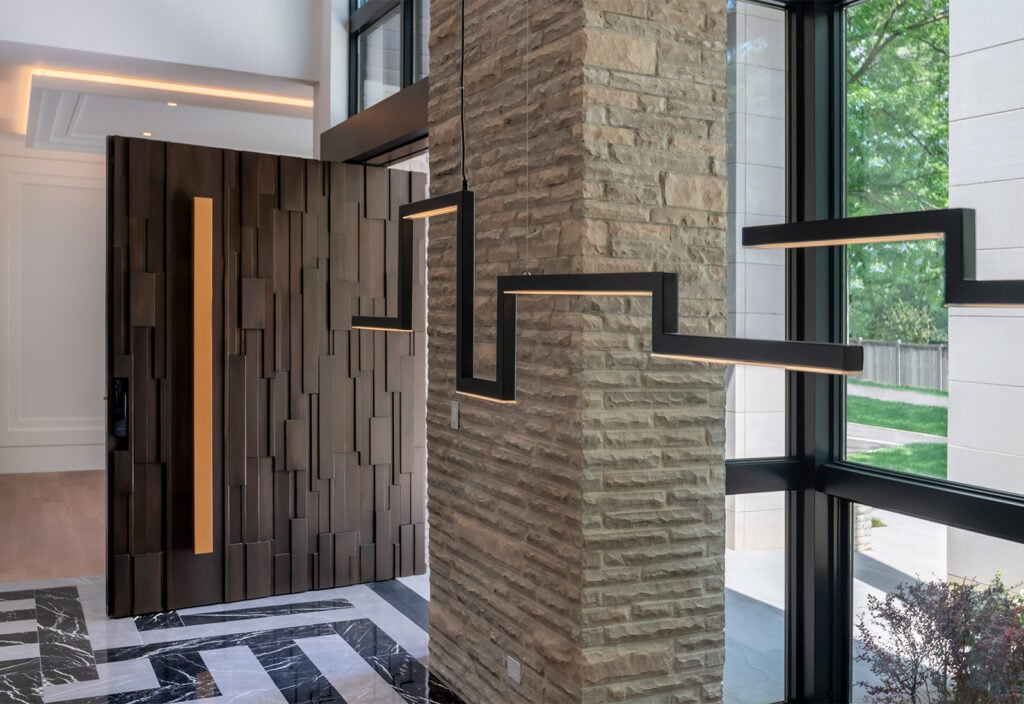 Master Bedroom Doors
For master bedrooms, our custom-made designs focus on intricating detailing combined with extra-thick door frames for superior security and soundproofing. We use high grade materials such as oak, mahogany, walnut or teak, ensuring your room is well insulated from external noise and elements.
Our vast selection of options includes large paneled doors with decorative glass inserts, sliding pocket doors that make it easy to keep your room private when needed, and oversized double doors with carved frames that bring a touch of opulence.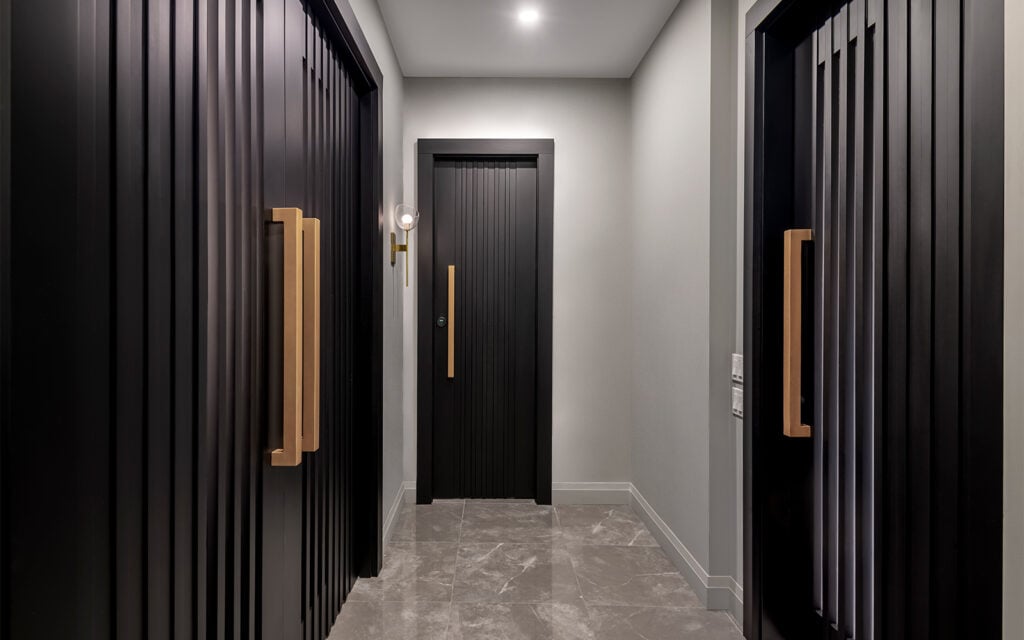 Metal Doors
Apart from wood doors, metal can also be an excellent choice for interior design projects. At Art Boulle we offer metal door designs crafted from cast iron, brass, bronze or stainless steel which provide stunning visual impact while offering increased durability and strength.
These decorative metal doors can be customized with intricate patterns that transform any entryway into a magnificent focal point.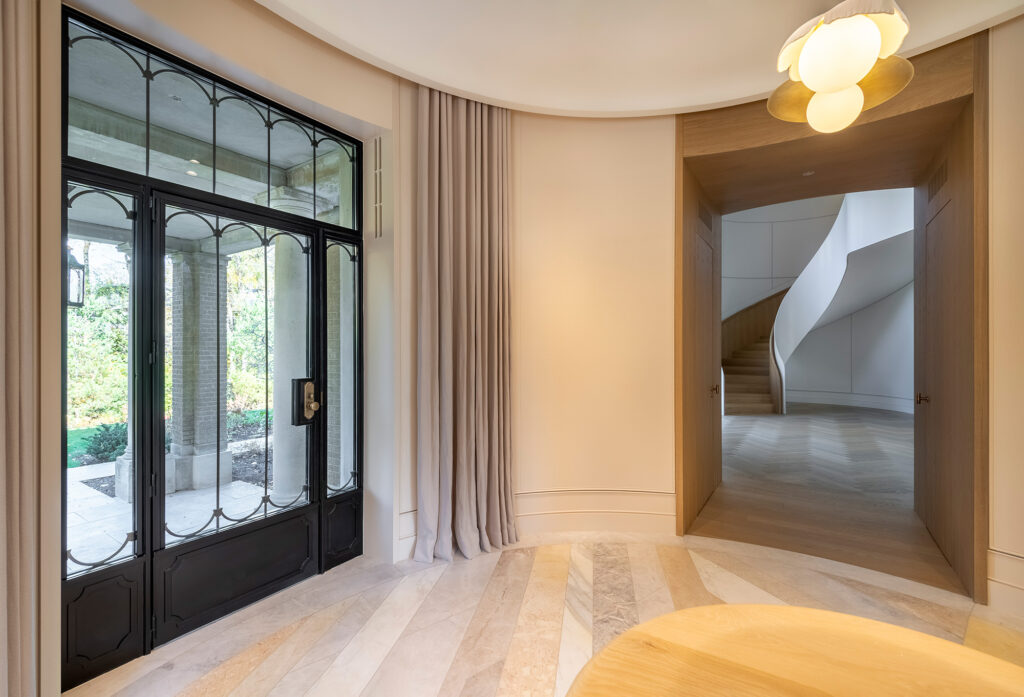 Art Boulle – Incorporating A Sense of Luxury To Your Estate
Each one of Art Boulle's door designs are custom-made for each client so that it fits perfectly into their existing design scheme, providing them with both the luxury features they desire and the functionalities required.
Their dedicated team of experienced artisans at Art Boulle work closely with each customer to create one-of-a-kind pieces crafted from top-quality materials that will stand the test of time both aesthetically and functionally. With Art Boulle by your side, you can rest assured knowing your interior door style will be timelessly beautiful for years to come.
Explore Art Boulle's breathtaking collection of wood or metal doors, or book a design consultation to achieve a unique bespoke front door tailored to your preferences.