When it comes to creating luxury gate designs, Art Boulle's capabilities speak for themselves. Crafted with expertise and by hand, Art Boulle takes pride in producing gates to any width and height by using traditional and conventional production practices.
To cater to varying ever-revolving design needs, we use hand production techniques to create exclusive designs. Not only are our clients presented with unlimited possibilities when it comes to designs, but they can also select from any traditional or modern design for gates.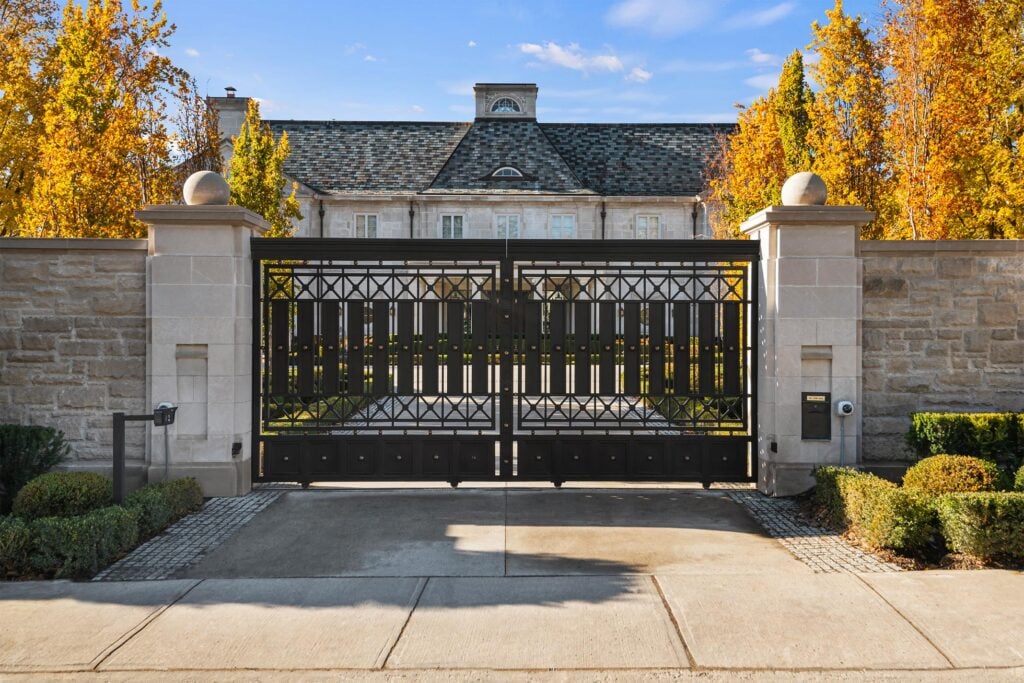 Gates that compliment your Estate
To provide supplementing gates that not only compliment your property but provide visual prowess, we produce our driveway gates with a series of high-quality materials.
Every property has its unique and distinct style and theme. Some customization requires gate automations to cater to seamless access, while others may require traditional opening animations. Also, there are other technicalities such as the splitting of the gate which requires attention of the designer.
After considering the nature of the access to the property via gate split design, Art Boulle also caters to custom stonework design. Such stonework design is needed for the structure of the gate to permit sliding gate automations, which are trending these days and can also save space of the driveway.
All of these factors combine together to provide a gateway that compliments your property and the aesthetic of the estate.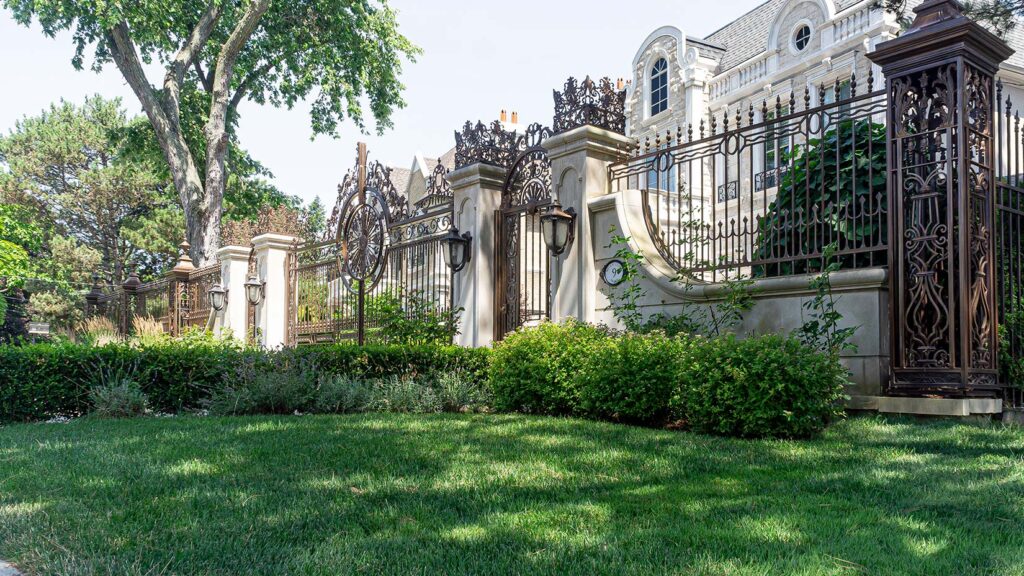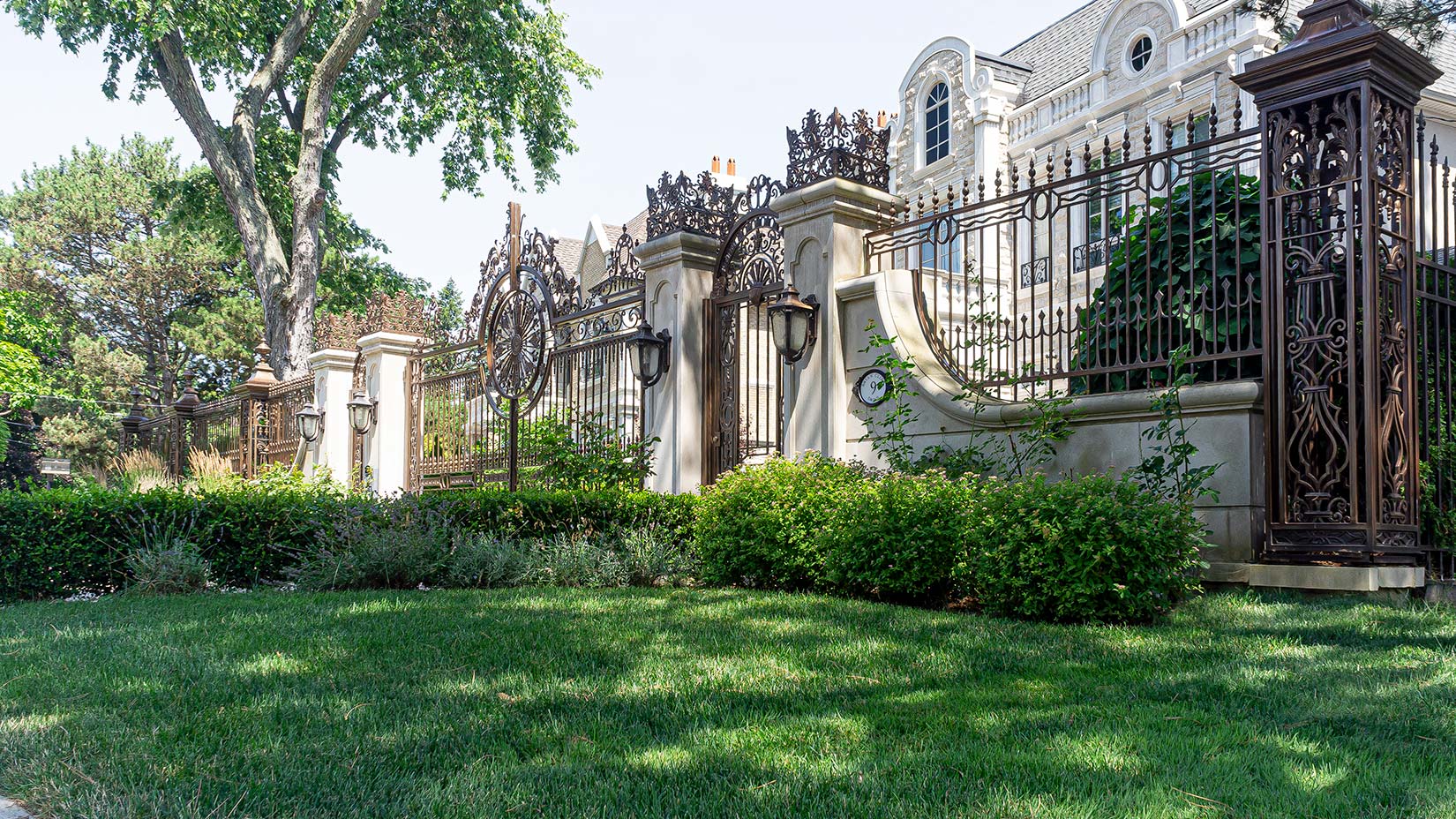 Things to look out for in a luxury driveway gate
Art Boulle, in consultation with its partners, creates tailored solutions for its clients when it comes to each of its products. From the design stage till implementation, it is imperative that each client is provided high a high-end product.
But there are some technicalities which should be addressed when considering installing a luxury driveway gate.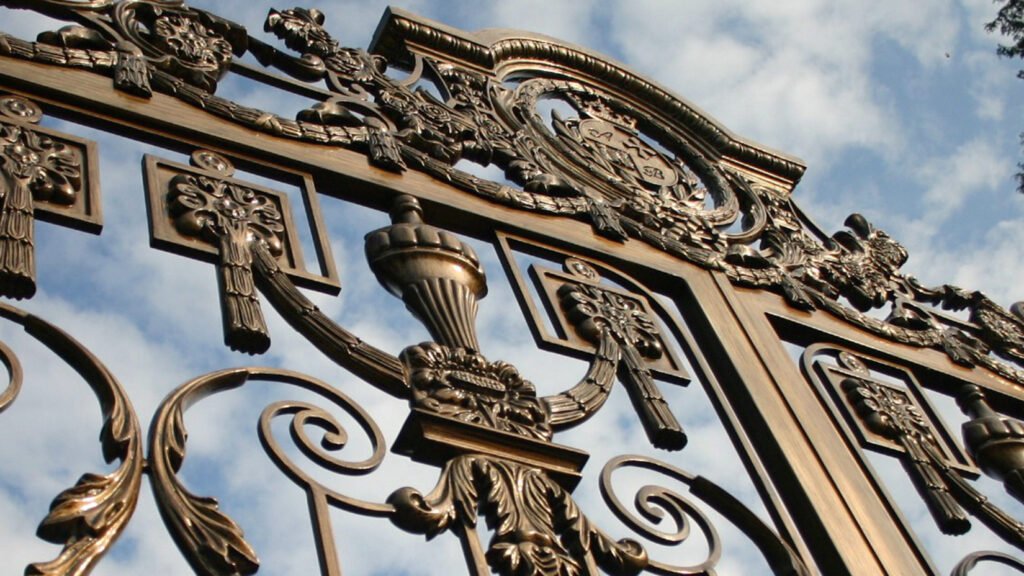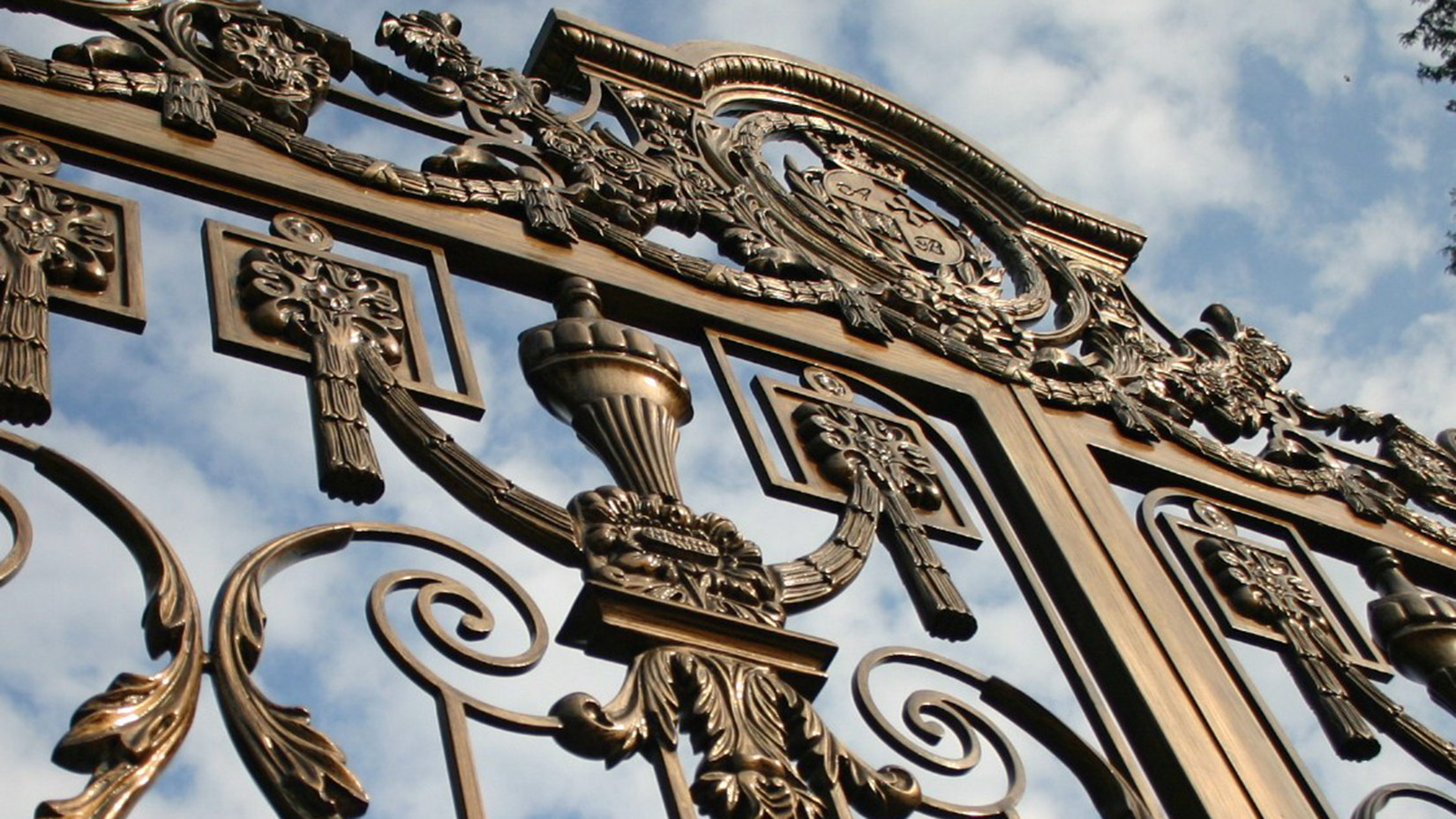 What should be the gate's width?
An average standard gate installed in a driveway is 12 feet wide. A residential estate would have a gate between 9 to 12 feet on average, but it depends upon the property estate size and city bylaw requirements.
Since the amount of traffic that is going to go through the gate and the size of it will matter when considering the gate size, it becomes important to think about the width first. If for example the gateway turns into a curve upon entry, then the gate width should be wider.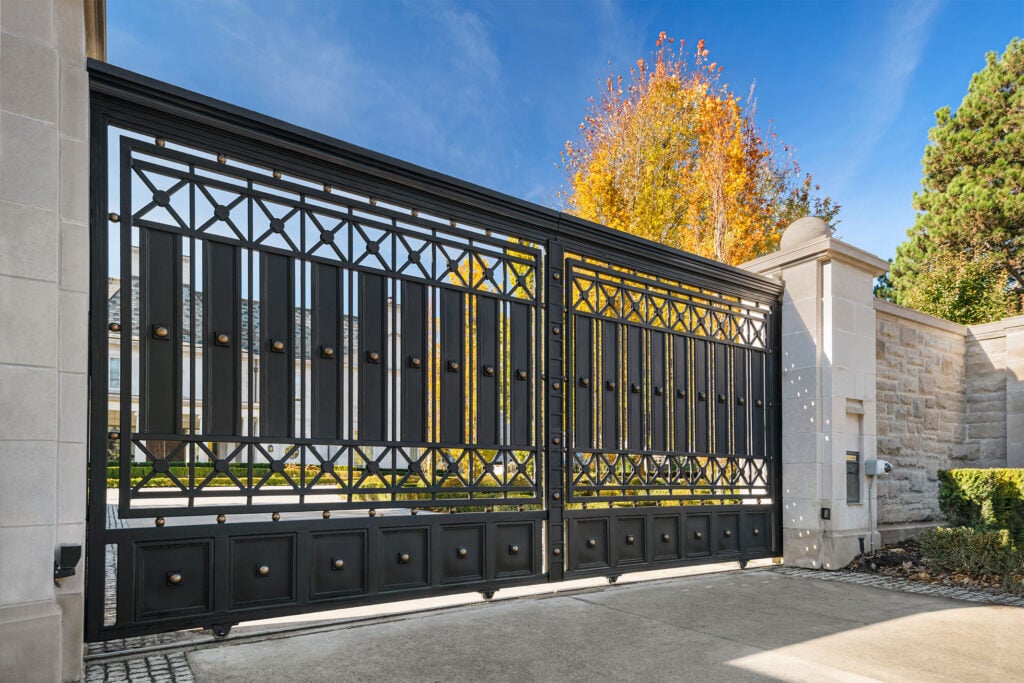 What should be the gate's height?
Just like when considering the gate's width, its height should also be important. An average gate height size should range in between 5 to 6 feet tall. Gates can be taller, but it depends upon the residence and city bylaws.
Many municipalities have compliance requirements or regulatory statutes requiring a specific height and not more than that for zoning and height restrictions.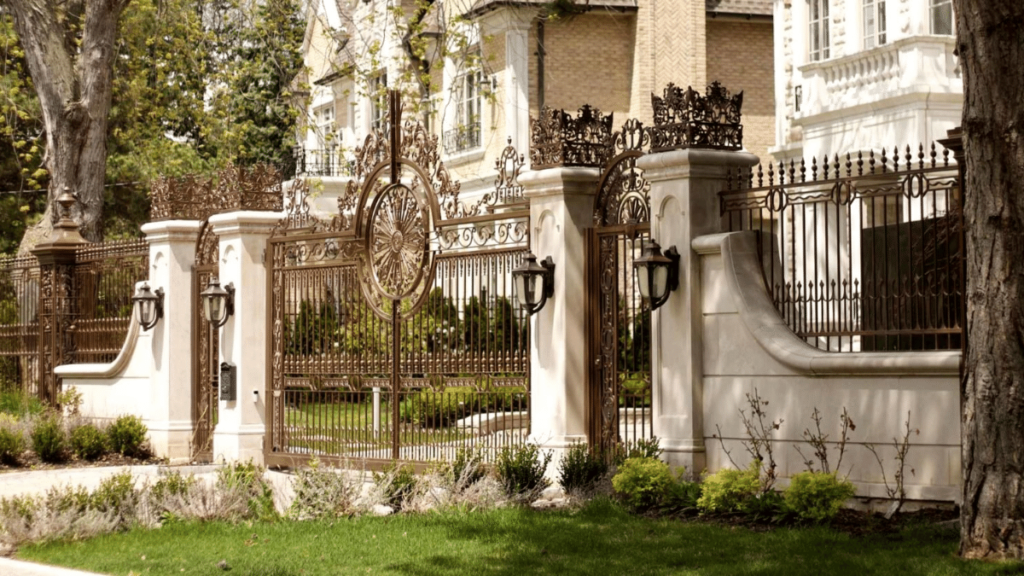 A sliding or swinging gate?
A swinging gate requires a 50/50 split, on the outside of the property and inside. Economically speaking, swinging gates are more favorable than sliding in most cases. This is because they are suitable for areas which receive less snowfall or have an uneven driveway.
Sliding gates on the other hand are ideal for places with space limitation. As sliding gates require less space for installation, they maximize space and tuck away in a very neat manner.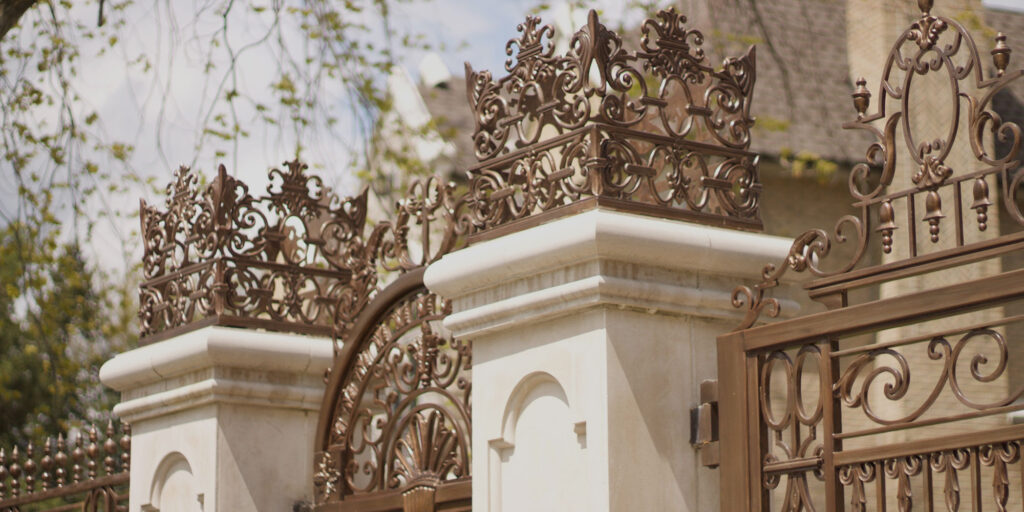 Luxury Driveway Gates and Art Boulle
Our artisans and craftsmen have mastered their craft and deliver the utmost value when creating luxury gates. We welcome you to book a design consultation or visit the Gates & Exteriors page for more inspiration.