A custom railing adds a unique impressing point of interest that adds visual weight to a home's exterior design. A grand railing should be designed to complement the architecture and design of the estate.
There are commercial and residential types of railings which in their own respective domain provide aesthetic impressions to the eye. Art Boulle specializes in exterior and interior custom railings which not only complement the design and theme of the estate, but also compliments the overall architecture.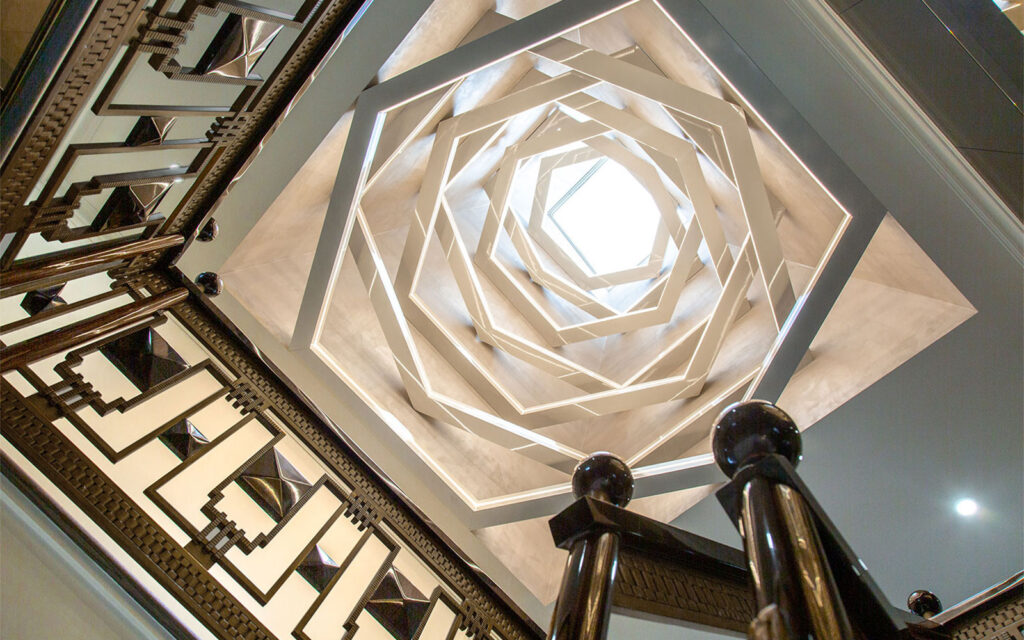 Seamless integration to display style
Art Boulle designs its railings to give a sense of trend, and not only does it add a point of interest to the overall design, but it impresses the visitor as they enter the estate. 
Art Boulle ensures the design of the railing to integrate smoothly and seamlessly with the overall design of the estate, wether traditional or contemporary. In this manner, the railing looks sophisticated and beautiful at the same time.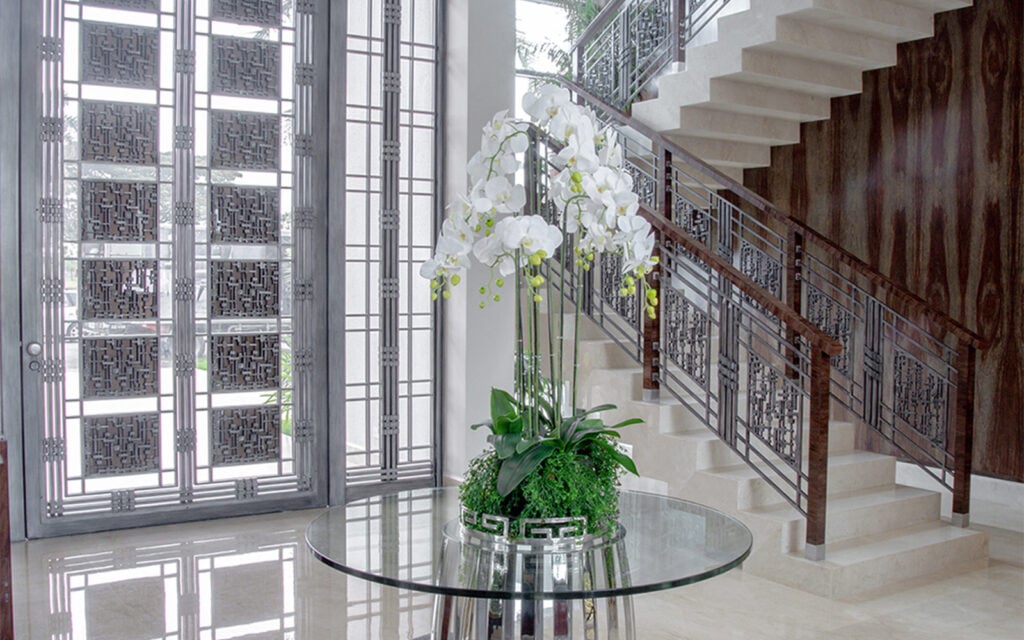 Materials used in our Staircases
A very important step when designing a custom railing is deciding which material to use. Art Boulle utilizes the highest quality materials to cater to each client's needs. Whether the balcony design demands pearl shells, exotic stones or forged metals, Art Boulle uses premium quality materials to elevate every balcony's outlook.
Other than the aforementioned materials, Art Boulle also incorporates various additional constituents. From fused gold leaves, metallic accents, and wood carvings, Art Boulle makes sure that every balcony is catered to each aspect of an estate.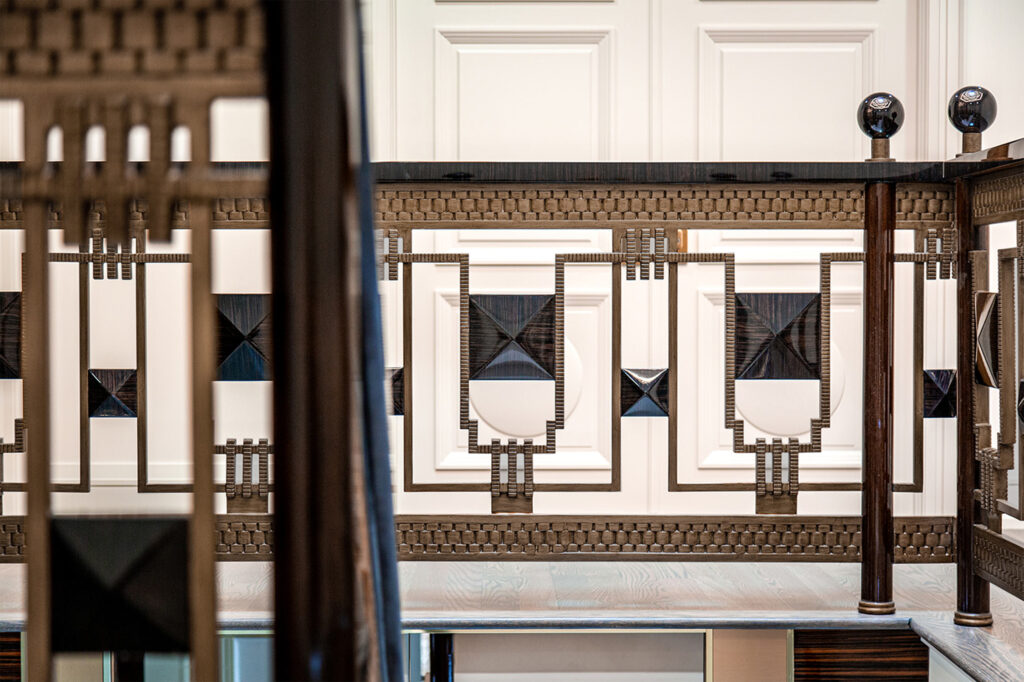 A distinctive look with exclusive designs
Art Boulle works with custom designs. This means that in order to cater to each estate, we use a distinct and exclusive design. To ensure a top-tier visual appeal to every interior or exterior railing, premium materials are needed. 
We provide and make exclusive designs for our clients and arrange premium quality materials for our designers to incorporate in their blueprint. By incorporating various materials such as the ones mentioned above, we bring forth various opportunities to work together and create exclusive content.
From paying special emphasis to infills to creating holistic designs, Art Boulle creates distinctive looks for high-end homes or businesses.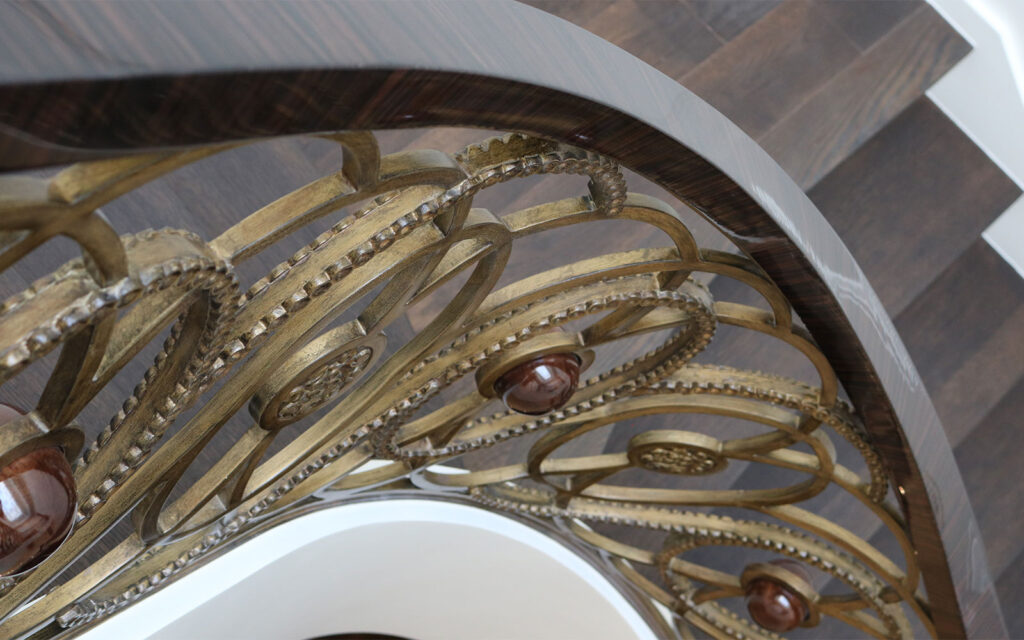 Modern balcony and railing trends
There are various modern trending balcony and railing designs incorporated in high-end homes and businesses all over the world.
One essential topic discussed in todays design trends is a green environment. Balcony gardens provide a garden on your balcony which is not only pleasant to the eye but provides something to give back to the earth and its environment. This is only possible with a design incorporated to cater to such possibility.
Another modern balcony trend is one which adheres to a minimalistic design and artistic style. This type of railing design uses an efficient colour palette, high-quality materials, and necessary embellishments.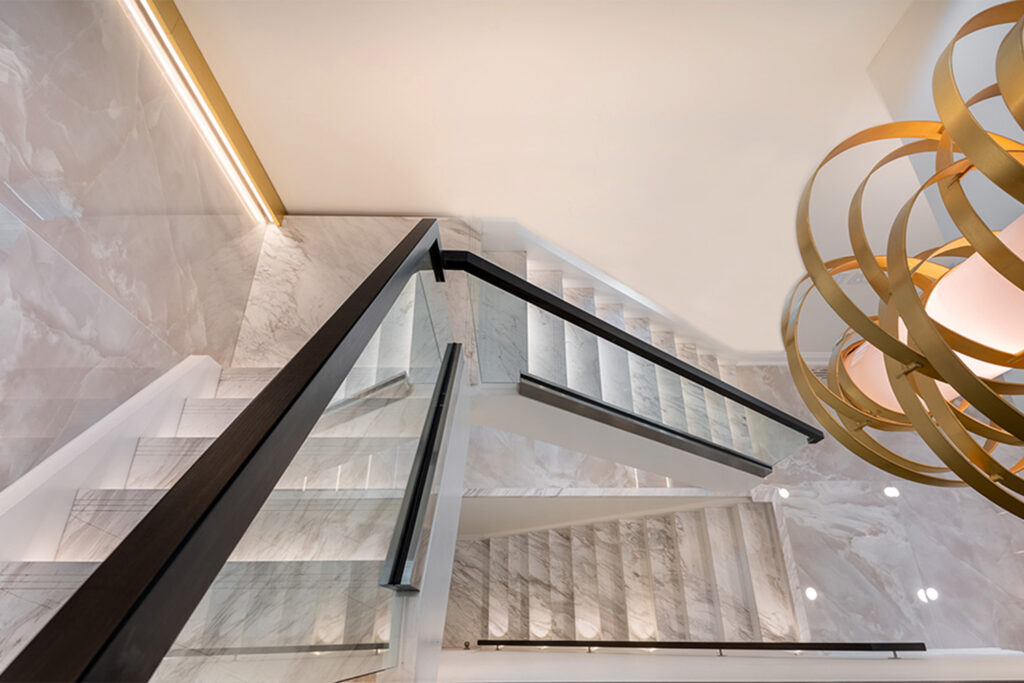 Why Art Boulle for your Exterior or Interior Railing
Art Boulle's mission is to be a trusted advisor to design and create custom railing designs. By partnering with clients, designers, and builders, we work towards creating new possibilities.
Book a design consultation for more inspiration or visit our Gates & Exteriors page for more inspiration.