The front entry door is the focal point to every elegant facade, so you want to ensure the door reflects both your design interests and the architectural features of the estate.
At Art Boulle, from exceptional ornate metal and woodwork to artistic interior collections, we specialize in custom interior and exterior design.
Making your front entry door the center of attention is a terrific way to make a statement and amaze visitors.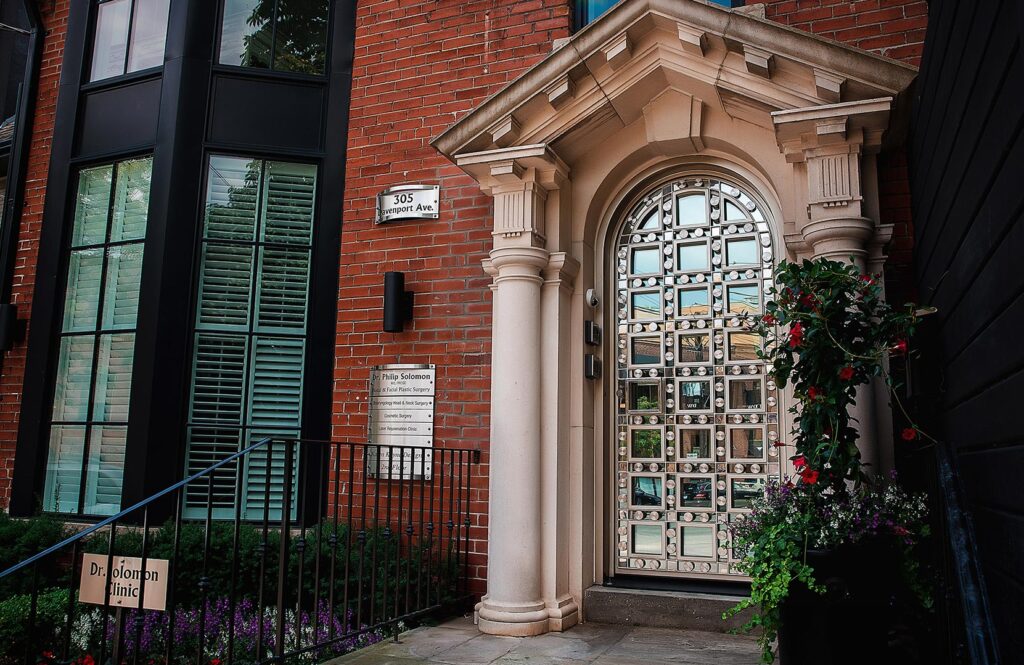 A Modern yet Contemporary Feel
Contemporary design is alive and well, responding to new minimalistic advancements within design. The most conspicuous component of modern design is contemporary and modern entry doors.
While the simplicity of modern design has its appeal, we strive to give each of our front entry doors a distinctive and opulent appearance.
Our primary objective is to understand and enhance each client's distinct visionary perspective.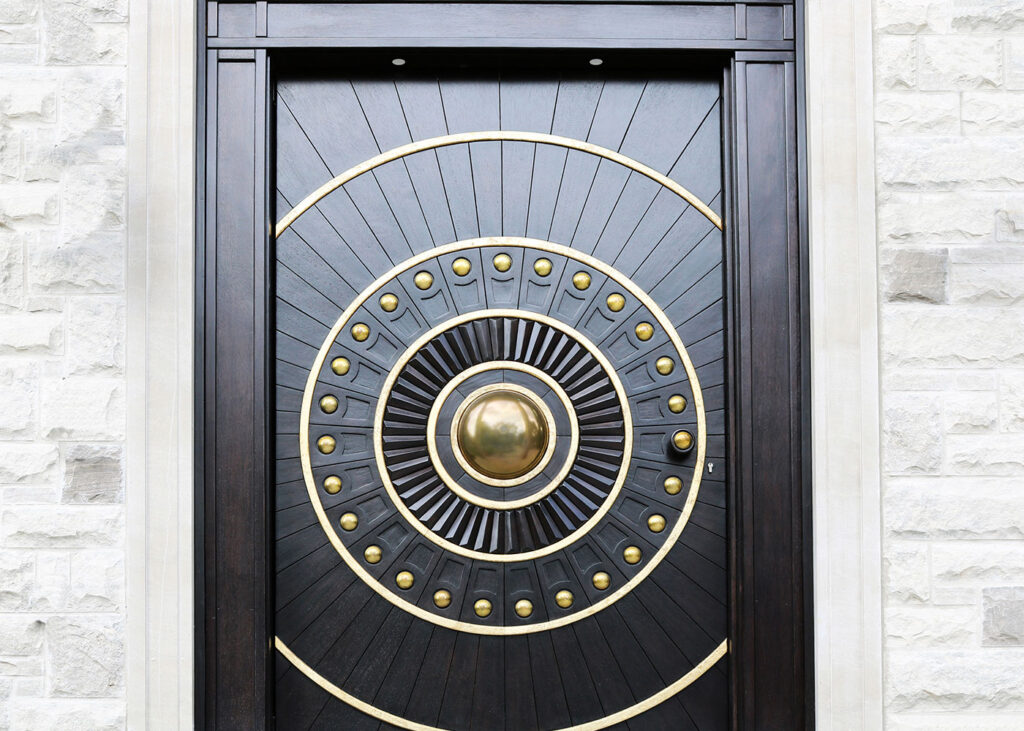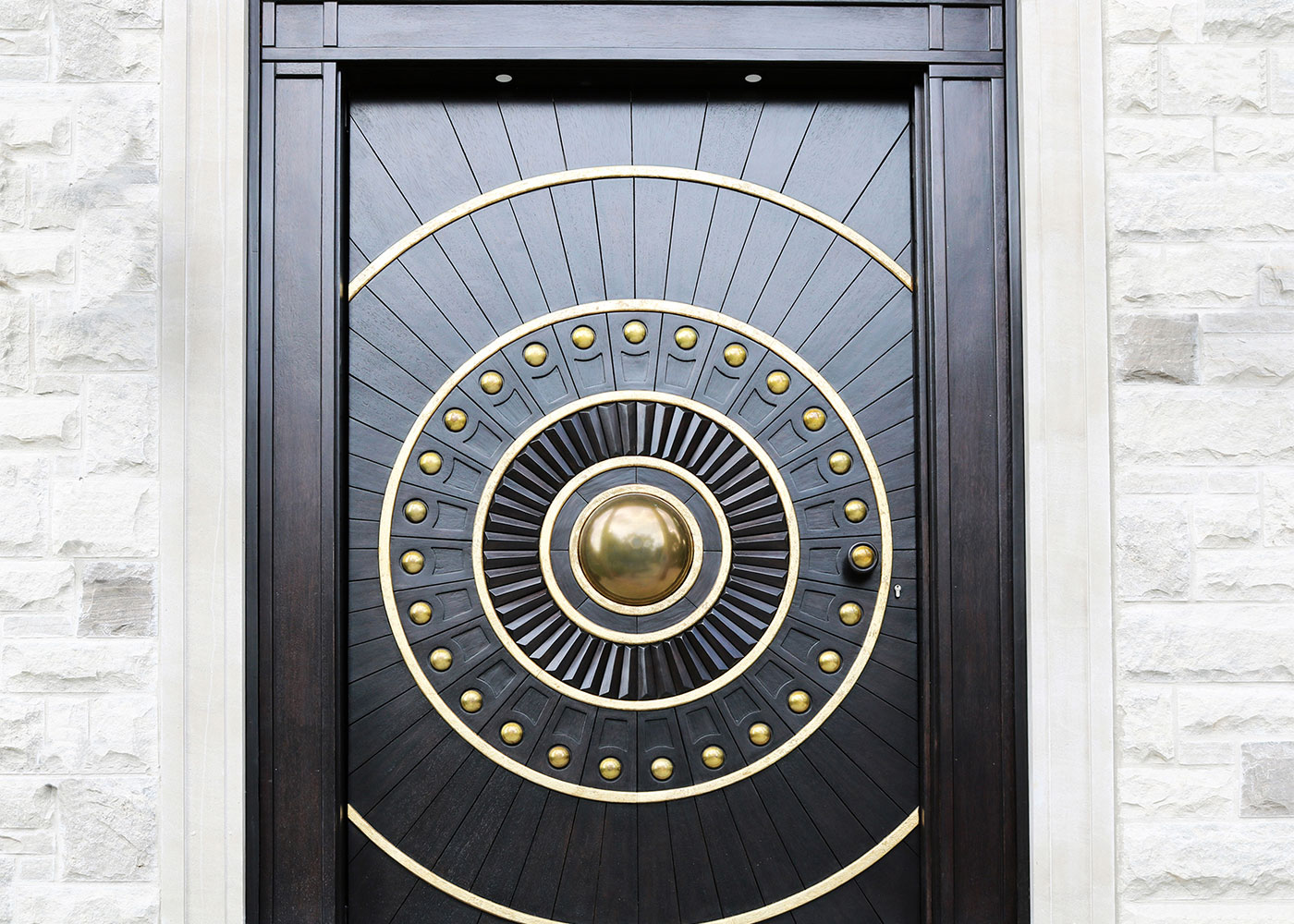 Elevate the Overall Aesthetics of Your Home
As previously stated, elegant and bespoke front entry doors distinguish a home or business. In other words, uniqueness is what sets you apart.
Aesthetically, today, symmetry is most appealing. Straight lines, symmetrical shapes and patterns all complement the contemporary design of current times.
Art Boulle focuses on engaging with each client to build a custom front door that perfectly symbolizes their architectural style and interior design interests.
After all, the client will be the one who sees the front door the most, therefore it should be tailored to their vision.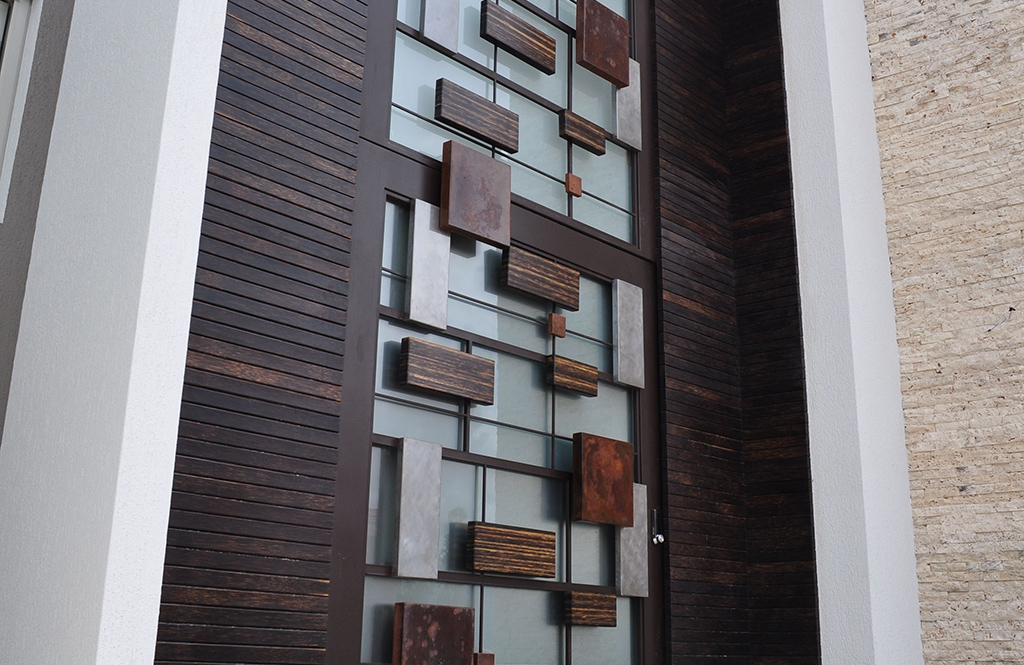 Front Entry Doors That Are Designed Exclusively for Each Clients Architectural Façade
The material of the door is perhaps the most crucial decision. The majority of doors include materials wood, metal, and cast aluminum.
Wooden Doors
The most popular type of door is wood. Their major suits are versatility and attractiveness. Oak, cherry, walnut, mahogany, maple, fir, and pine are among the most natural solid wood doors available.
In today's world filled with mass production, wood craftsmanship capabilities are rare to find. From design to its final stage, Art Boulle invests hundreds of hours creating each wooden front entry door, employing only the finest materials and the most skilled artisans.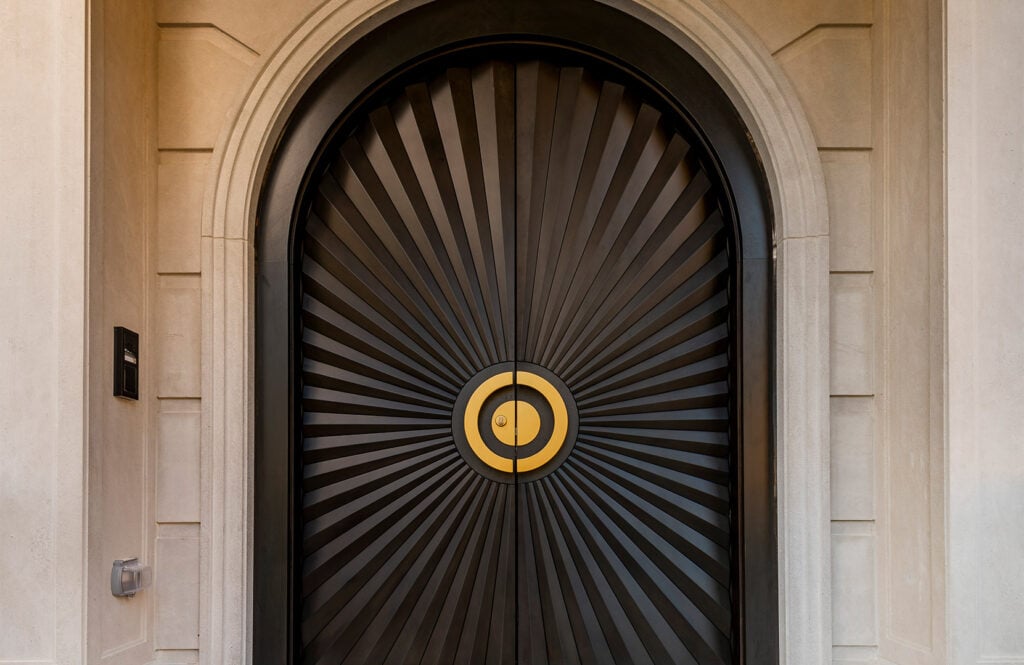 Metal Doors
If security and durability are key requirements, a metal door is the ideal option. Metal doors are more durable than wood doors and will not break or warp.
Architects and Designers now have a broader palette of metals to choose from than at any other time in history, and custom metal doors are fast becoming the star building trademark featured in some of today's most exciting new building projects.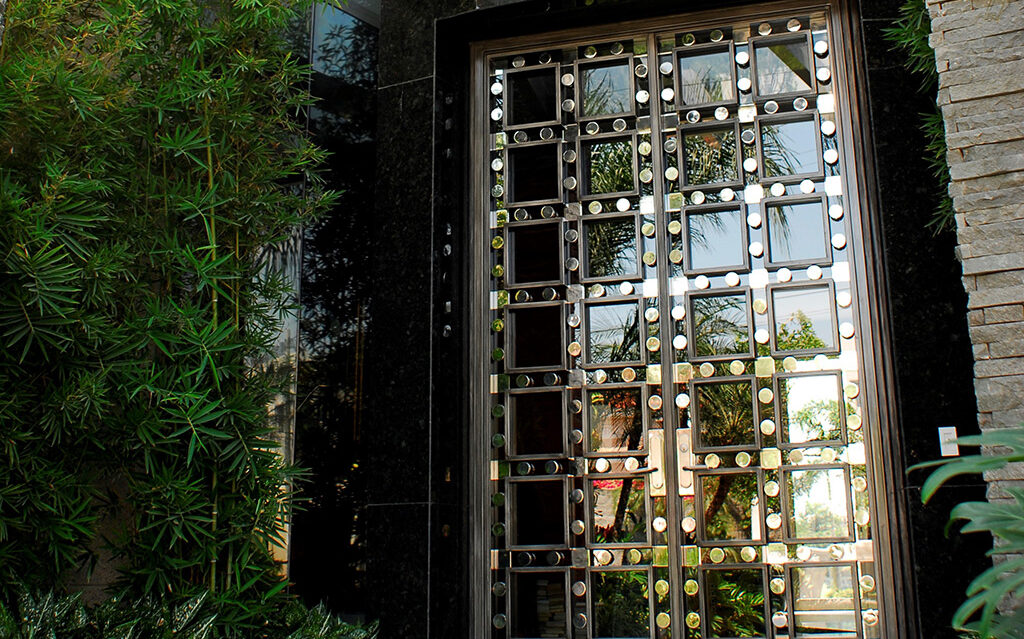 Cast Aluminum Doors
Cast aluminum doors, like steel doors, have a metal covering over an insulating core. Cast aluminum doors have a baked-on enamel coating that means they don't need to be painted and won't rust, which explains the frequent many year warranties.
At Art Boulle, we utilize a process called Metal Casting. Metal Casting is an ancient process that is used to hand produce complex shapes. The metal is melted to liquid form using oversized furnaces at a temperature of over 660°C (1220°F). The metal is then carefully poured through a hollow channel, called a sprue, into a cavity composed of pack sand. The cavity is made from wood molds, which are hand-crafted to uniquely represent the expression of that piece's design.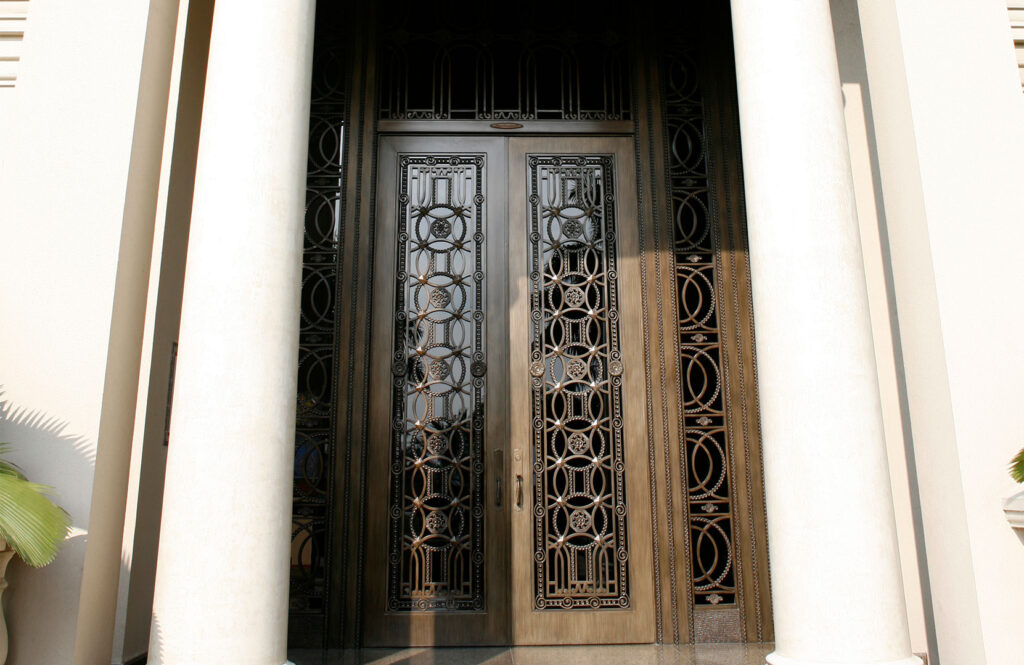 Art Boulle – Home to Artistic and Unique Front Entry Doors
All around the world, Art Boulle's exclusive front door designs have graced and emphasized luxury home entrances all over the world
All our wood and metal doors are meticulously constructed with the highest quality materials and attention to detail. This guarantees a one-of-a-kind piece that exemplifies the pinnacle of exclusivity and elegance.
For additional information, visit our wood and metal front door designs or schedule a design consultation.