Staircases have become a prominent feature in today's interior design trends and intricate metalwork is fast becoming the star building trademark featured in some of today's most exciting new staircase projects.
Staircases are one of the largest interior features and thus attract a lot of attention from visitors. They also leave a footprint of visual expression which emphasizes the overall style and design of a space. Custom staircases allow for unrestricted artistic expression in some of the most elegant ways.
Art Boulle offers a wide variety of luxury stair railings that are that are the epitome of style and functionality and are specifically tailored according to the interiors they are meant for, as well as the unique and stylistic taste of its clients.
Aside from standard straight steps, there are a variety of stair kinds to fit the needs of various structures. L-shaped, spiral, and curved stairs are examples of these.
"Employing the Finest Materials and the Most Skilled Artisans" – Art Boulle
Art Boulle also focuses on utilizing various precious materials to create custom designs that meet the highest-level criteria for elegance and unique style.
Custom crafted stair railings can arguably become the most appealing focal piece depicting legendary style and sense of luxury.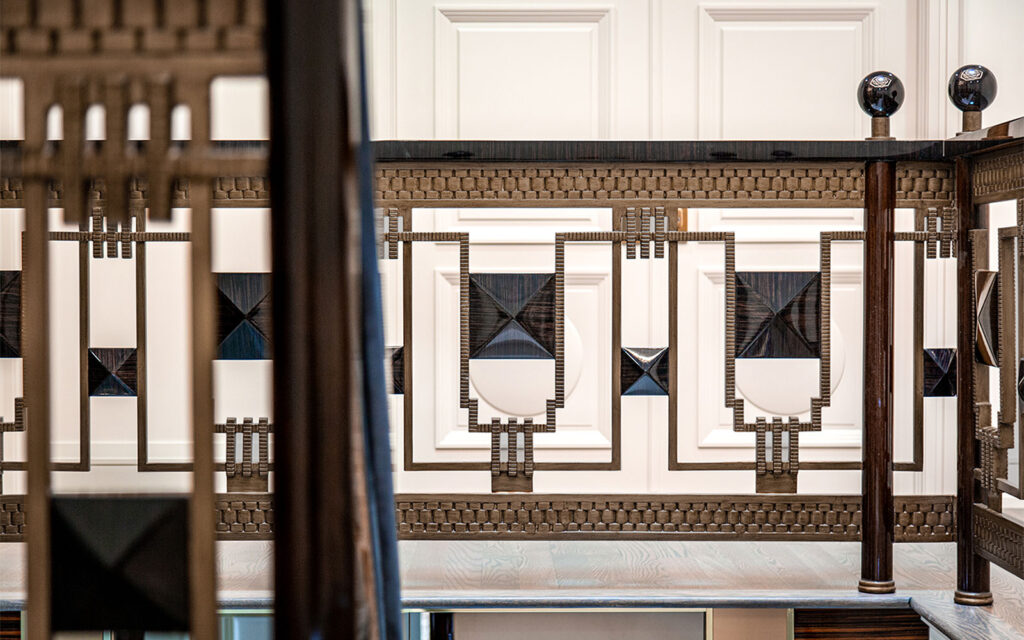 Benefits of Incorporating a Custom Staircase
Art Boulle's proficient designers and artisans aim to create stair railings that stand as a testament to luxury, style, and artistry. A Custom Interior Staircase is an excellent way to boost an estate's value, curb appeal, and security.
Provides Creative Solutions to Your Space
Incorporating an elaborate custom-made stair railing can completely transform a space. From curves to landings and everything in between, custom-built stairs can be customized to bring out the unique features of a home.
Custom staircases can be made to fit into tight areas or to add dramatic styles and focal points in a home or office, adding architectural distinctiveness to a space.
Designs can be carved and etched to give your selected style even more personality.
Enhances the Aesthetic Appeal of Your Home
When you envision a grand home, what is the first thing that comes to your mind?
Luxury stair railings are a part of every majestic home as they elevate the aesthetics of the estate. While there are numerous common stair alternatives available in a variety of styles, if you want something truly unique and fit for both personal and professional settings, consider a custom stairway.
Luxury stair railings are a wonderful focal point for a home's decor, which boosts the estate's interior appeal, and is one of the first things visitors notice when they visit.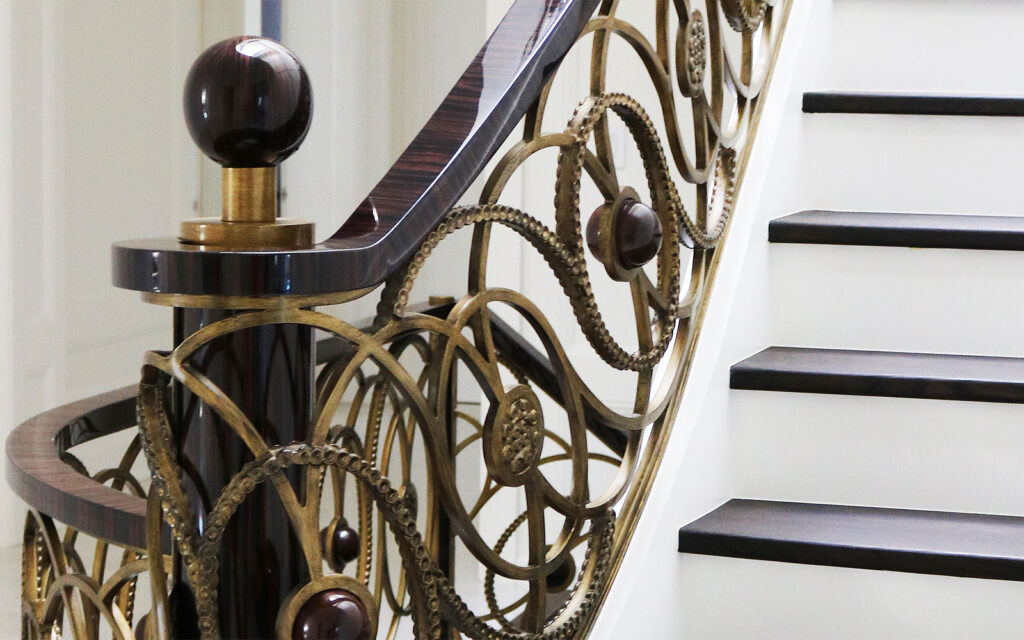 Solving Space Limitations
Custom stair designs are perfect for homes that have unique space and safety requirements. A bespoke interior staircase can be built to accommodate almost any space constraint and can include curves, landings, and other characteristics that add to an estate's uniqueness.
Because certain homes and structures lack the space for a regular staircase, bespoke designs are used to tailor to those problems. Thus, skilled manufacturers can design stairwells that fit within the restricted space while yet adhering to local building codes.
Art Boulle's skilled artisans specialize in creating customized works of art to suit the interior of a home or business while maintaining the highest level of quality.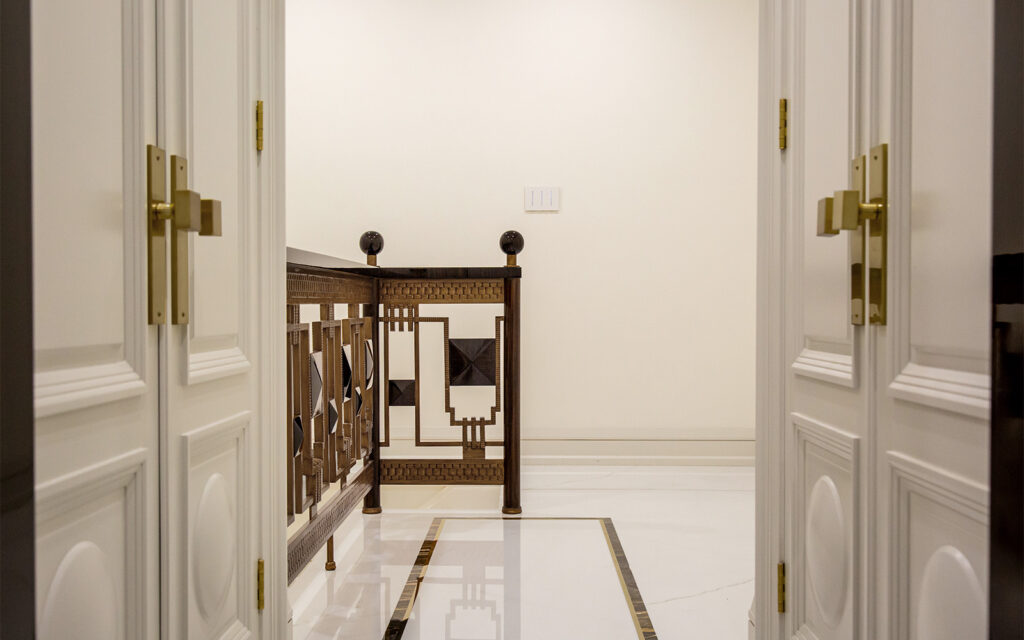 Originality and Uniqueness
At Art Boulle, we strive to uphold our company's unique vision for originality and quality. Building a unique staircase solution that will meet the area and demands of our clients, whether it be a contemporary staircase or something stunning in a dramatic and extended entryway.
Our dedication to extraordinary craftsmanship and perfection allows us to create custom stair railing designs, ranging stylistically from classical, ornate, contemporary, or avant-garde,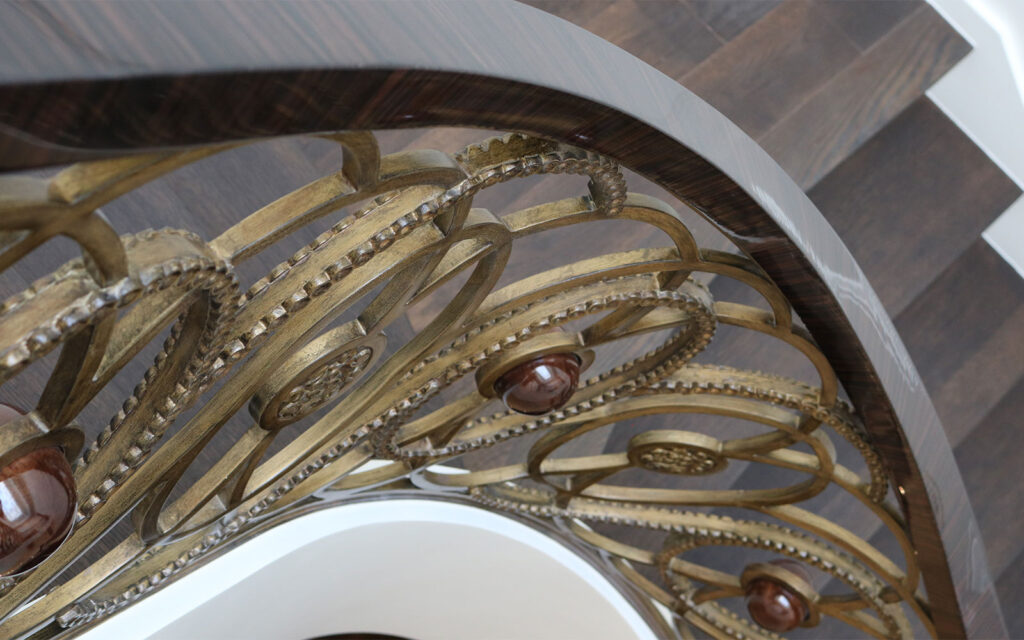 Bespoke Luxury Stair Railings by Art Boulle
Every piece we produce is a work of Art, using only the finest quality materials and craftsmanship.
From Toronto and New York to Dubai, London, and further, our staircases have come to embellish luxury homes all over the world.
Ready to revamp your home interior? Check out some of our custom Luxury stair railing projects or schedule a design consultation for more information.