Grand entrances have always been the focal point of modern architectural designs, and understandably so. These doors add a touch of elegance and flawlessly complement an impressive space. Although oversized doors have been a focal point for years, today there is a lot of emphasis on minimalistic designs with grandiose features. Such doors do not only enhance the entire look and feel of the home exterior, but they also depict a grand atmosphere.
Art Boulle's Oversized Doors Collection
Art Boulle bespoke oversized door creations are tailor-made to each clients' unique design preferences and requirements. Have a look at 5 of our newest bespoke oversized door projects: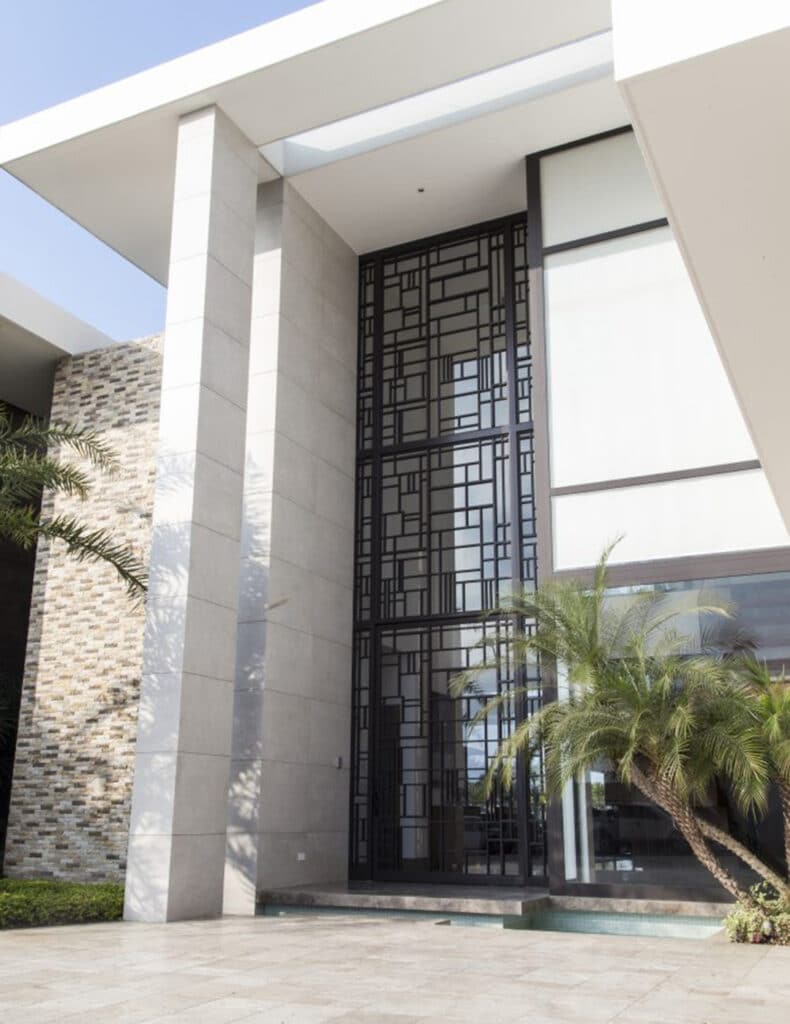 1. Symmetrical Royalty
This 30-foot structure features a design with alternating squares and rectangles that merge the door with the transom window above, creating one seamless grand entrance. The design blends in 3 different sections of the door entrance through its symmetrical shapes, making them all look like one. The oversized door design is beautifully accentuated by the unique architecture of this space.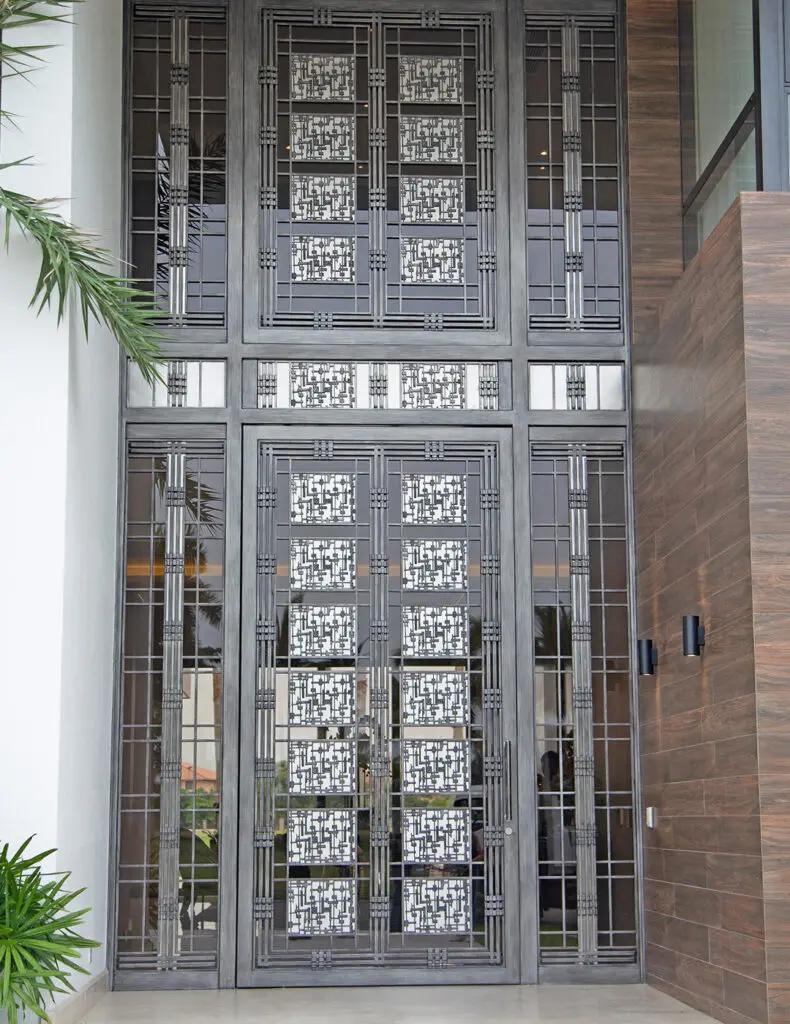 2. Silver Jewel
This custom metal door is composed of interlocking and overlapping squares which continuously flow throughout the front entrance, merging the oversized door with the transom window above. It makes use of cast aluminum to achieve a silver jewel-like appearance. The integration of wood, on the right side, contrasts the silver tonalities and creates a unique, modern outlook.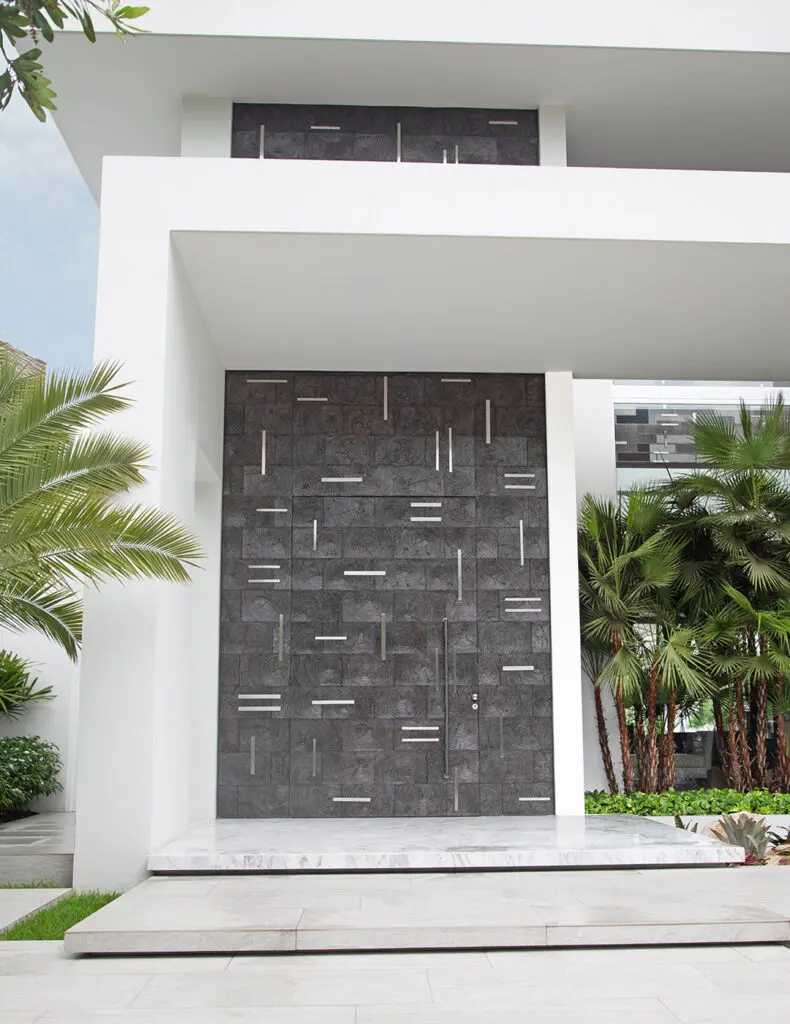 3. Nature's Perspective
This grand oversized door is inspired by the inner core of a tree trunk. When taking a closer look at this 20-foot cast aluminum door entrance, you'll find that inspiration behind the circular rings are tree rings. The tree rings leave their own natural art print, while the cast aluminum bars create symmetry of their own, and together, they make a flawless design that's ideal for this modern space.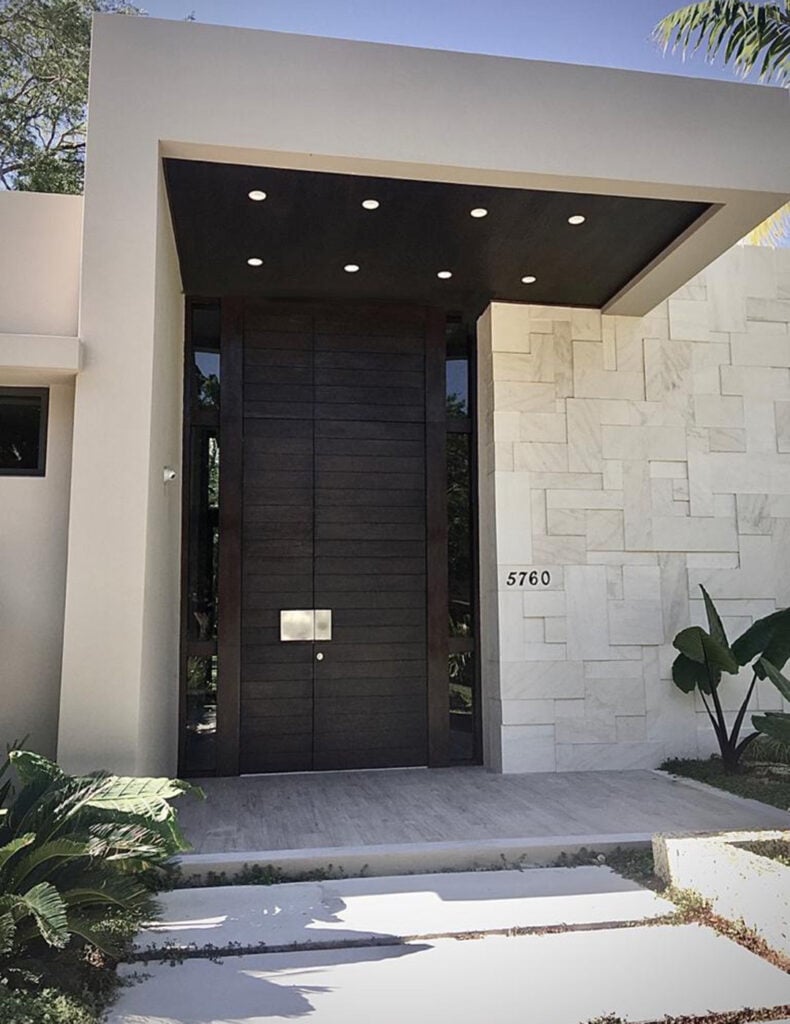 4. Timeless Ambiance
This oversized pivot door was custom-made for a client's newly-built property. It features a simple yet elegant design, comprising of a wooden structure with dark brown finishing and a cast aluminum handle. The door was designed in a way to uplift the exterior of the home. It wouldn't be wrong to say that this one's certainly a timeless design.
5. Oversized Grandeur
The 20-foot structure consists of small blocks of copper, aluminum, stainless steel, and bronze squares and rectangles that effortlessly blend in to create a modern design. The two sidelights are made of solid wood to add a contemporary touch. This door exhibits an affinity for uniqueness and distinctive modern design trends – something that Art Boulle strives to offer its clients in everything we produce.
Our Oversized Door Designs Made from Precious Materials and Meticulous Processes
Art Boulle's Oversized Door's have come to adorn and highlight luxury home entrances in unique and artistic styles all over the world. All Wood and Metal doors are handmade using the highest quality materials and the absolute best craftsmanship. This way, we guarantee an exclusive bespoke creation – that is the epitome of luxury and elegance.
We welcome you to explore our custom oversized doors collection or get in touch with us for a design consultation.