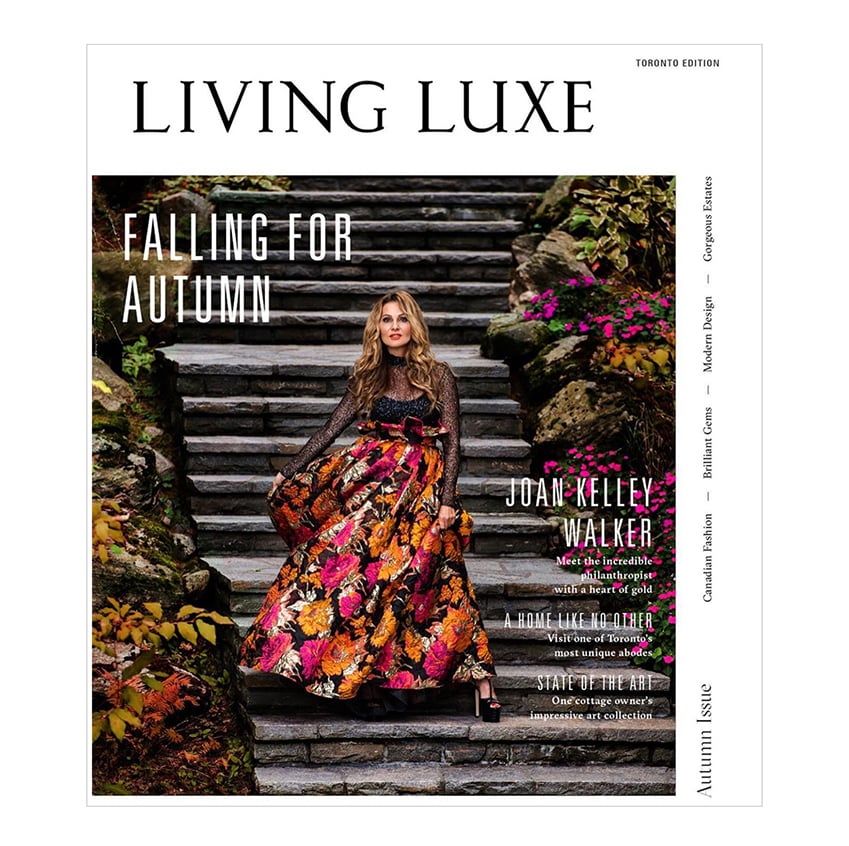 LIVING LUXE MAGAZINE, FALLING FOR AUTUMN
Living Luxe Magazine's Autumn Issue 2021, Falling for Autumn, presents the lovely and talented Joan Kelly Walker on the cover. Art Boulle features on a 6 page story showcasing a behind the scenes look at its craftsmanship dedication when creating custom front doors. The feature exhibits a show stopper copper door, presenting a pattern of circular cavities hand-finished with patinas. In addition, the feature showcases a stunning modern pivot front door created by Art Boulle which sits in an established Oakville neighbourhood home by David Small Designs. The pivot door features a pattern of rectangular blocks protruding and interweaving throughout the surface.
https://www.youtube.com/watch?v=szc8nv3lEpE&ab_channel=ARTBOULLE
FEATURED STORY, TRUE ARTISTRY AT ITS FINEST
"The workmanship and technique it takes to create an Art Boulle door is nothing short of spectacular — it's unparalleled in terms of style and artisanship. Here, Nancy Saavedra, CEO, co-founder and creative director of Art Boulle, offers a behind the scenes look on craftsmanship.
Art Boulle is top-notch when it comes to design, quality and craftsmanship — it's something Saavedra and her team have shown in projects time and again, and it's something every member of the company ardently takes to heart. Doors are important focal pieces; they act as signature pieces that can convey drama, make a lasting impression and welcome guests into a home. In a world characterized for mass production, Art Boulle strives to offer exceptional craftsmanship that is quite rare in today's world. Providing our clients with bespoke ironwork and woodwork pieces that are tailored to suit their unique requirements is always Art Boulle's priority. The company prides itself on using the finest materials and most skilled artisans, who have perfected their craft through generations.
By Lisa van de Geyn