Luxury pocket doors are a great way to add a touch of class to your home. Pocket doors are doors that slide into a pocket in the wall, rather than swinging open on hinges.
This gives your home a sleek and elegant look. Pocket doors can also save space since you don't need to allow for the door to swing open.
Art Boulle's Pocket doors are made of high-quality materials such as solid wood and exotic veneers. The doors are custom designed to meet any height and width. If you're looking for a way to add luxury to your home, Art Boulle creates every door to meet the unique specifications and architectural requirements of each project, combining the highest quality materials and artisanal craftsmanship.
Common Locations Where You Can Install a Luxury Pocket Door
A luxury pocket door is a great way to add an elegant touch to your home while also saving space. Pocket doors are designed to slide into a pocket in the wall, which means they don't require any swing room. This makes them ideal for small spaces or rooms with limited floor space. There are a few common locations where you can install a pocket door, including: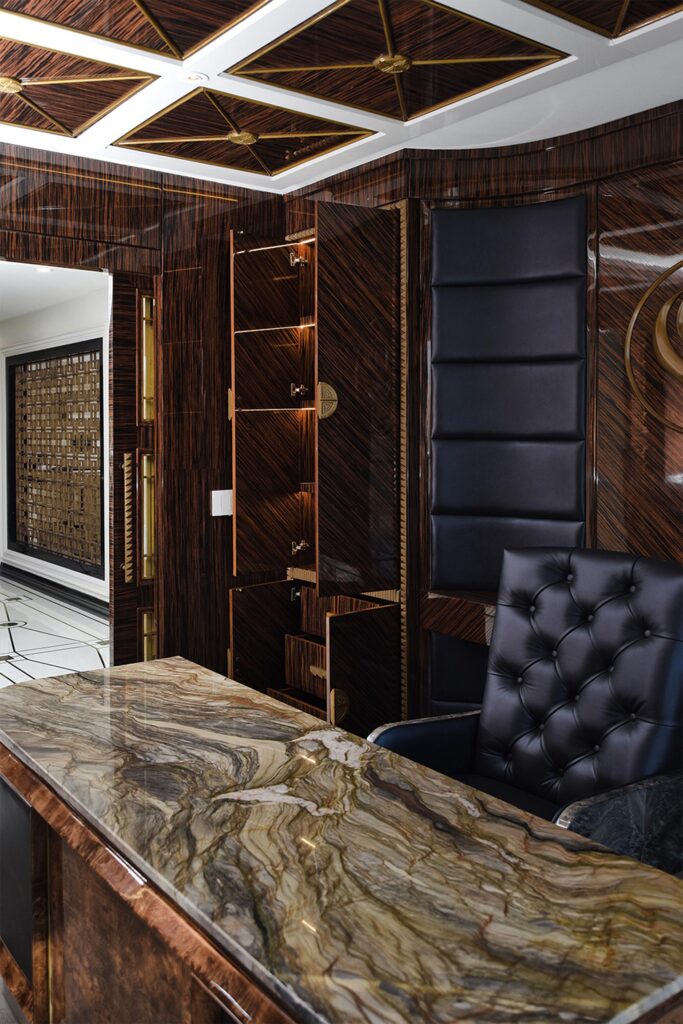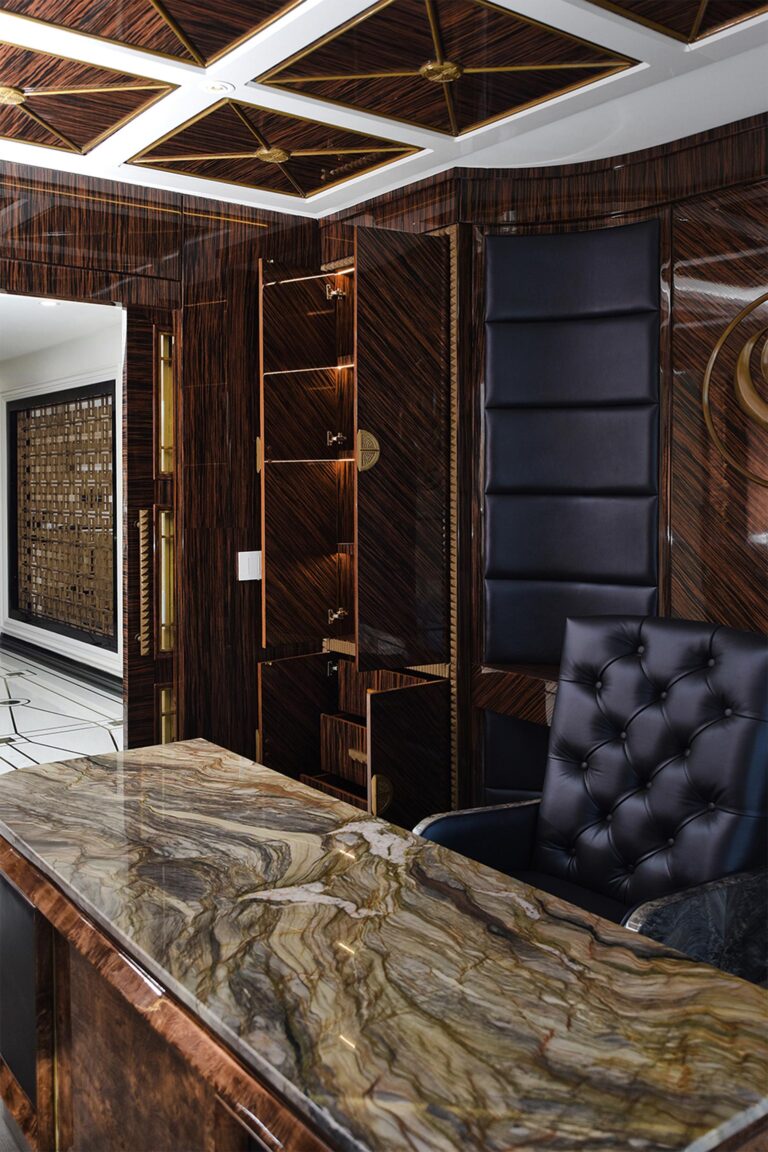 – Entryway: The most common location for a luxury pocket door is the entryway. A grand entryway is the first thing guests will see when they arrive, and a beautiful pocket door can make a lasting impression.
– Office Space: Pocket doors create a grand entrance to grand office, utilizing space and creating a unique atmosphere.
– As a closet door: Pocket doors are often used as closet doors because they don't take up any precious floor space in the room.
– As a bathroom door: Pocket doors are also commonly used as bathroom doors due to space saving and aesthetics.
Installing a luxury pocket door is a great way to add both style and function to your home. Art Boulle's luxury pocket doors are the perfect way to add a touch of elegance to any home. Unlike mass-produced doors, each of Art Boulle's creations are completely tailored to reflect the exclusive style of each clients' space.
Advantages Of Installing a Pocket Door
When it comes to interior doors, pocket doors are a popular option, and for good reason. Pocket doors slide into a cavity in the wall, which means they don't take up any space when they're open.
Pocket doors have several advantages over traditional swinging doors. Because pocket doors slide into a wall rather than swinging out, they require less clearance to operate.
This can be a major advantage in small rooms or tight spaces where a traditional door would block part of the room when opened. Pocket doors also tend to be more energy-efficient than swinging doors, since they create a tighter seal when closed. Additionally, pocket doors can also help to reduce noise levels in your home.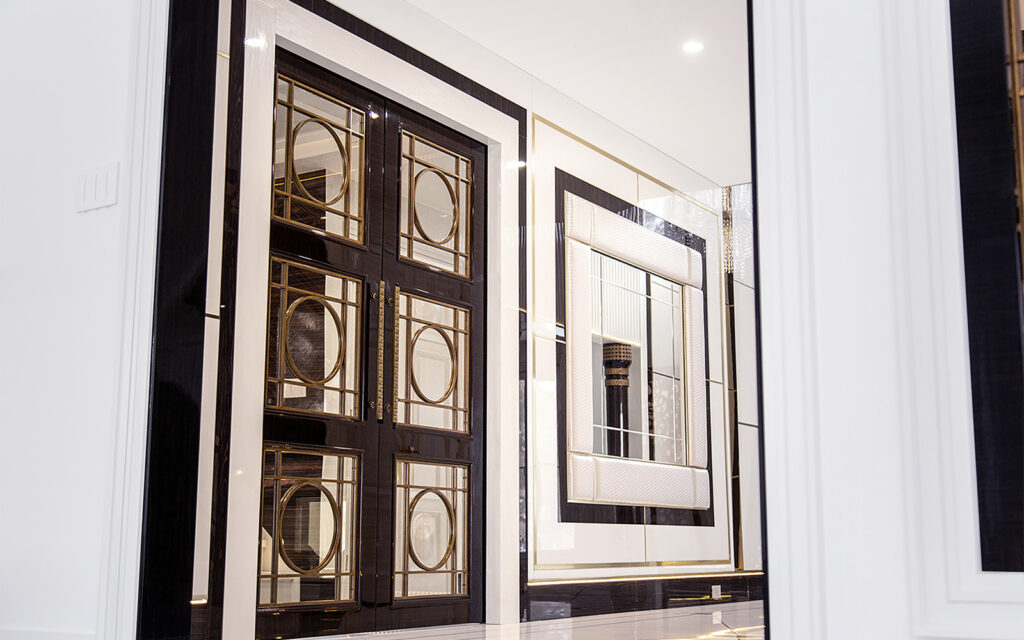 In addition, Art Boulle creates custom pocket doors using high end finishes like exotic veneers. When properly installed, pocket doors are also relatively easy to operate and can provide a lifetime of trouble-free use.
Art Boulle – Home to The World's Most Extraordinary Woodwork
Art Boulle is home to the world's most extraordinary woodwork – creating artistic interior and exterior doors, fine millwork, and interior furnishings. With an aim to create exclusive spaces utilizing precious materials and a high-level of craftsmanship.
Pocket doors are a stunning addition to any home. They provide an elegant way to divide space, and they can help to create a sense of privacy while still allowing natural light to flow through.
Luxury pocket doors are also a great way to add value to your home. Book a design consultation or visit our wood doors page for more inspiration.