A beautiful door adds a strong curb appeal to your property. Whether you're planning to sell your existing home, revamping it, or are getting a new one constructed altogether; You should consider incorporating a custom exterior metal door to your estate.
Why You Should opt for A Custom Metal Door
Metal doors are indeed a symbol of strength and individuality. But that's not it. Here are a few reasons why metal makes a great choice for exterior front doors: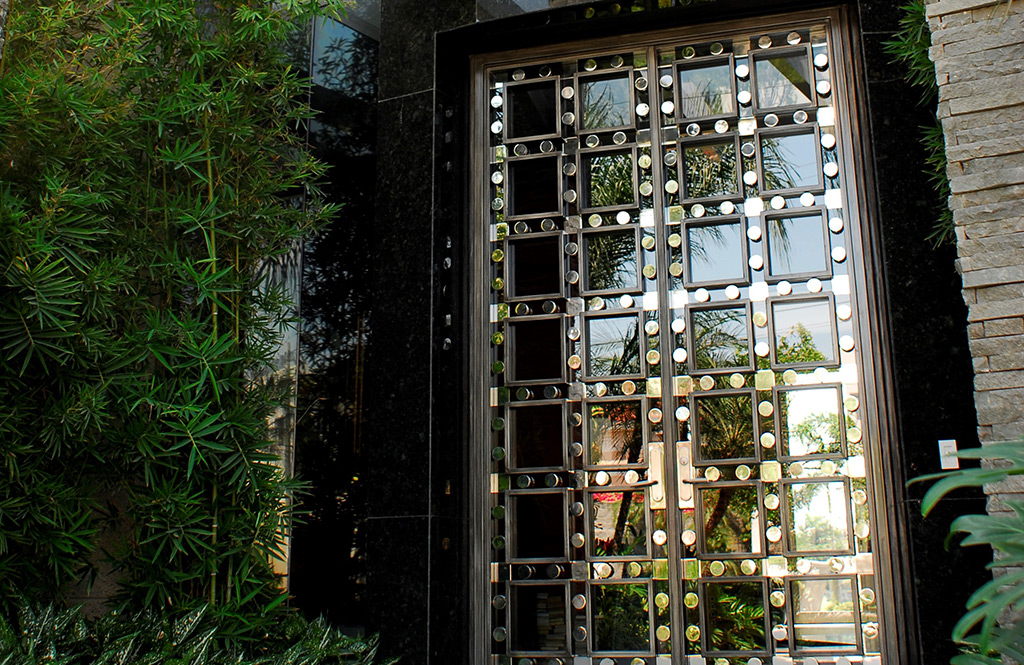 This is one of the awesome things about metal doors. They offer a greater level of security and safety due to their great rigidity.
Steel is one of the strongest materials out there, surpassing wood in strength to a great extent. Metal Doors are weather resistant, energy efficient, and can handle rust as well as corrosion. Thermally insulated cast iron doors can endure the Arctic cold and retain the heat inside your home.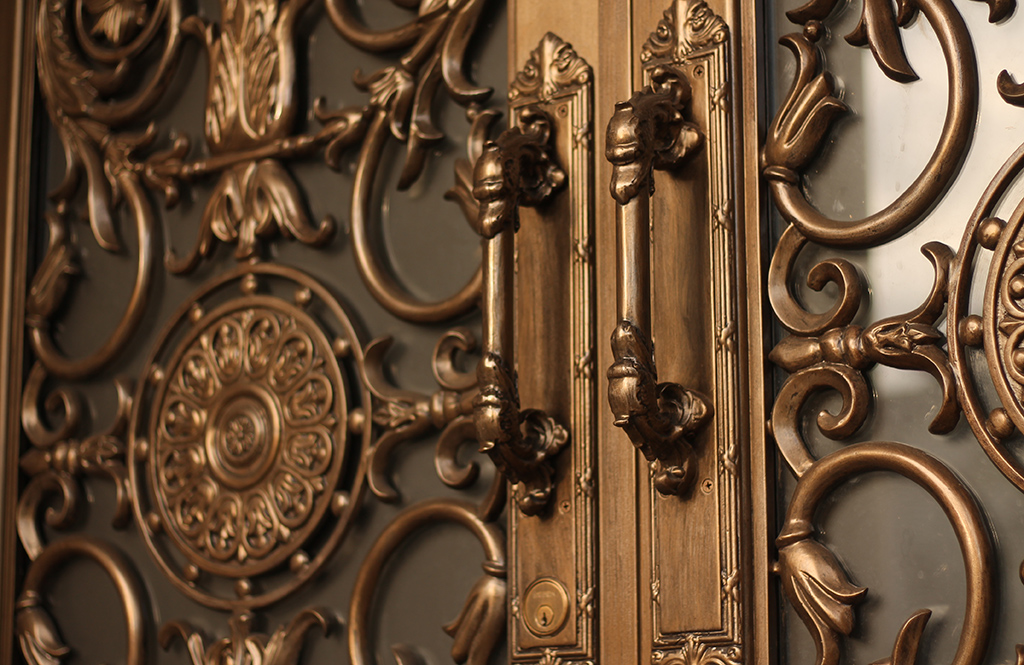 They're easier to maintain
Since steel doors don't warp or rot, they're easier to maintain as well. In addition, metal doors don't require a portico or direct covering as they can endure harsher weather conditions.
Since all homes are unique in their own way, customizing something that matches with the architectural style and design of your estate is important. The versatility is perhaps the strongest suit of metal doors, particularly for Art Boulle. Metalwork allows for an extraordinary exhibition of classical antiquity and modern cosmopolitan influences. Artisanal metalwork can create some of the most incredible signature bespoke pieces that make each door unique.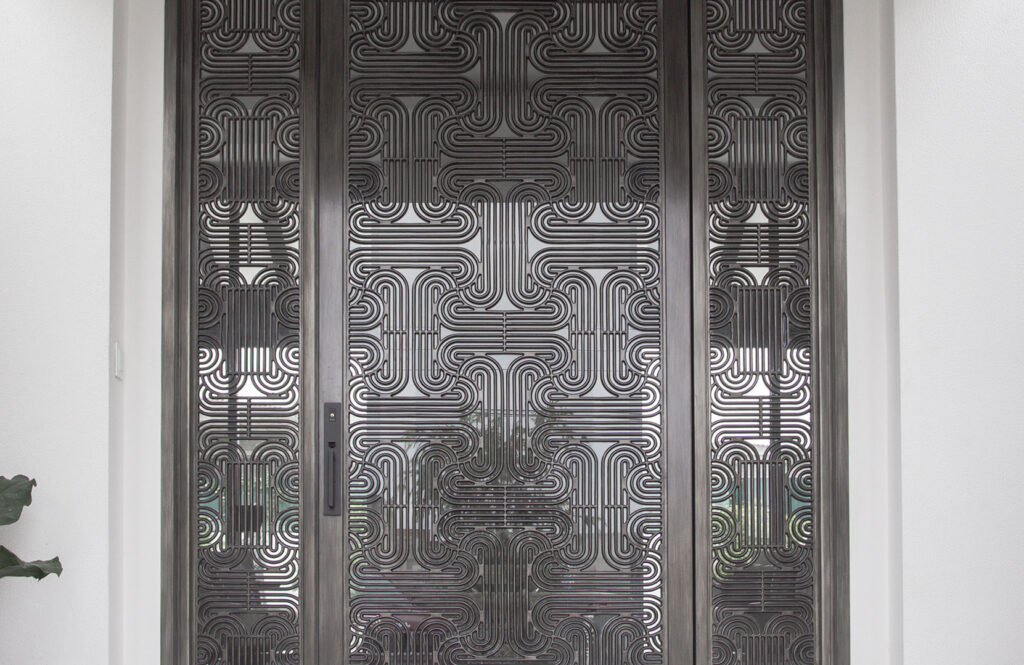 However, there's more to these doors than what meets the eye. Read on to find out about the history of metal doors, and find some inspiration for your next custom exterior metal door.
History of Exterior Metal Doors
According to history, doors were first found in Egyptian tombs some 4000 years ago. No one knows who invented the door; all we know is that it was incepted somewhere in central Egypt. In ancient Egyptian architecture, a false door was a wall decoration that looked like a window and represented a gate to the afterlife. Such doors were commonly seen in tombs.
Fast forward a few decades, people started utilizing wood to construct doors for castles, homes, and other buildings. Although these doors worked great, they weren't fireproof and didn't offer great rigidity. Hence came the opportunity to use iron and steel to make doors and gates – and the rest is history.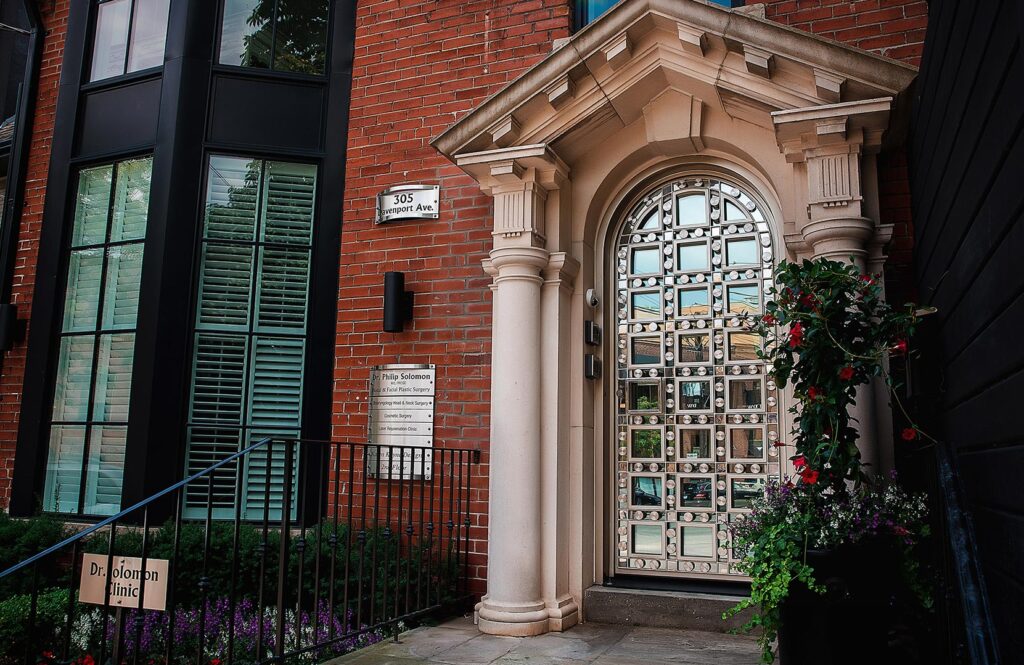 Custom Exterior Metal Doors Inspiration
A luxury pivot door will indeed amaze you at first sight. It's a floor to ceiling door that pivots on a hidden hinge system, instead of the traditional opening and closing from a door hinge. A pivot door is perfectly suited for heavier doors as the weight capacity is greater than the average metal door hinge, providing a smooth door movement with impeccable balance.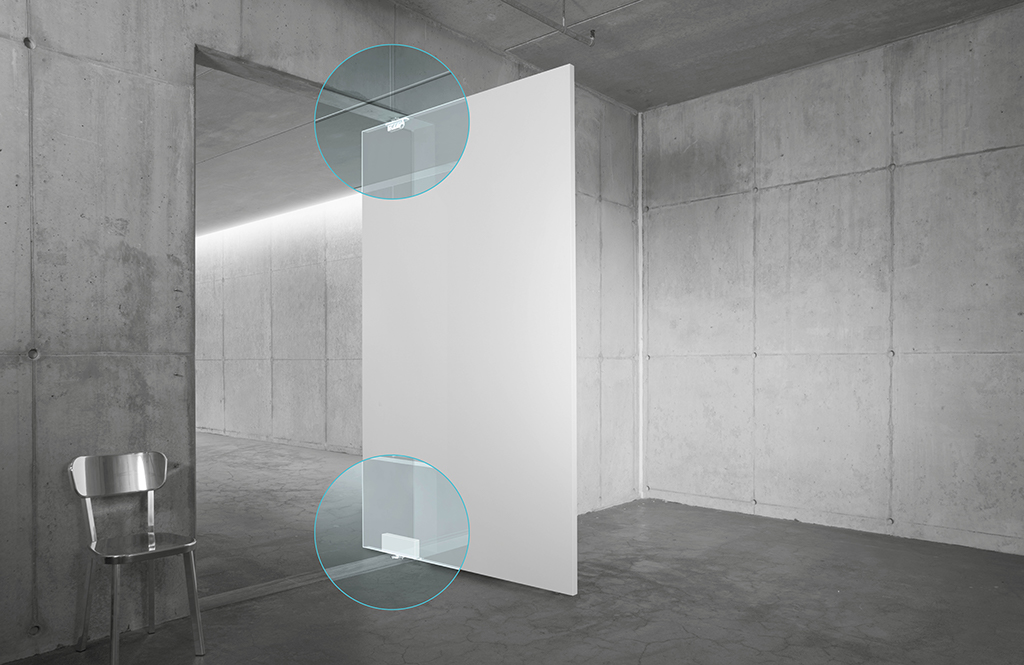 Oversized Metal Doors
Oversized metal doors are an excellent choice for making a statement in any modern setting. Grand entrances have always been the focal point of modern architectural designs. Such oversized metal doors do not only enhance the entire look and feel of the home exterior, but they also depict a grand atmosphere.
Modern Metal/Wood Doors
Most often these doors consist of a metal frame and a solid wood body. In today's world filled with mass production, wood craftsmanship capabilities are rare to find. Wood allows for an extraordinary exhibition of customization. Unlimited possibilities are released when we consider the invaluable artistry available to design and create a custom exterior door.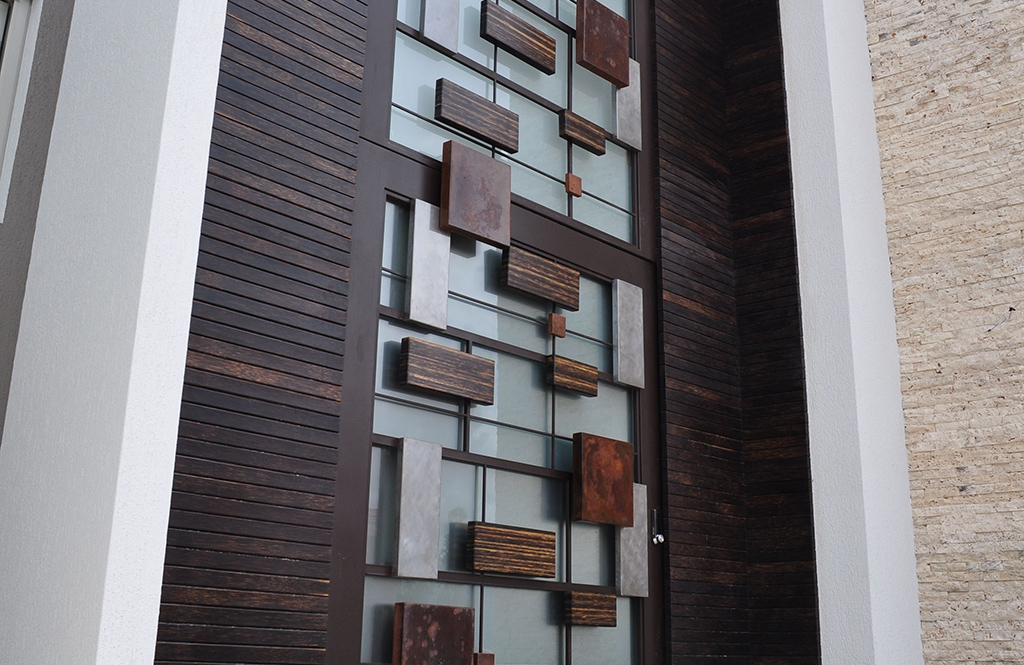 Art Boulle's Collection of Custom Exterior Metal Doors
Art Boulle is home to the world's most extraordinary casted ornamental metalwork. We have completed a variety of bespoke exterior metal doors projects all over the world. We welcome you to view some of our most exclusive projects:
Woodland Acres Crescent
This metal door was custom-made for a client's unique exterior modern facade, with the aim to exhibit uniqueness, intricacy, and exclusivity. It features an exquisite wrought iron design with tinted glass to separate the indoors from the outdoors. The classic gold color gives the door a royal touch.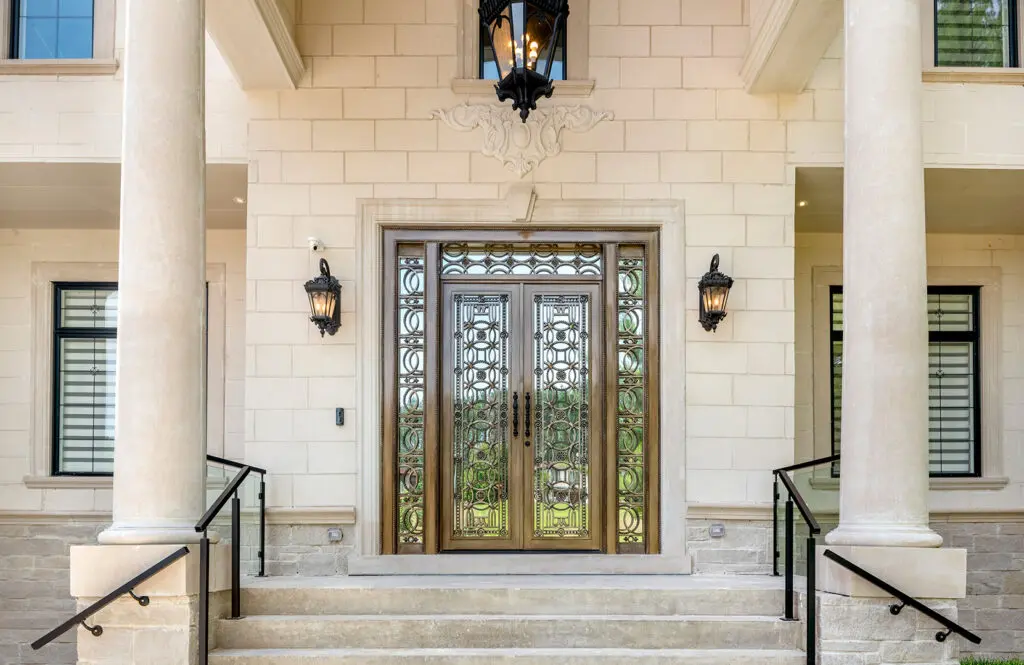 Timeless Collection
This custom metal door is composed of interlocking and overlapping squares which continuously flow throughout the front entrance, merging the oversized door with the transom window above. It makes use of cast aluminum to achieve a silver jewel-like appearance. The integration of wood, on the right side, contrasts the silver tonalities and creates a unique, modern outlook.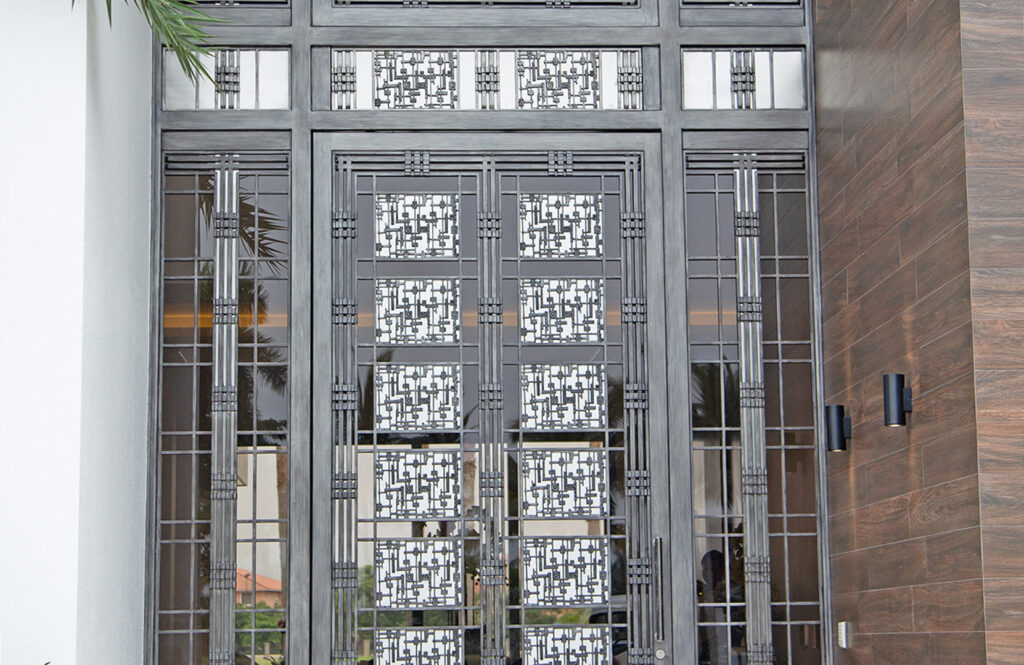 Iron Innovation
This wrought iron door features a symmetrical design with a number of variously-sized square and rectangle blocks in brown and white that signify the touch of modern architecture in Art Boulle's door crafting and designing. This door exhibits an affinity for uniqueness, exclusivity, and distinctive modern design trends.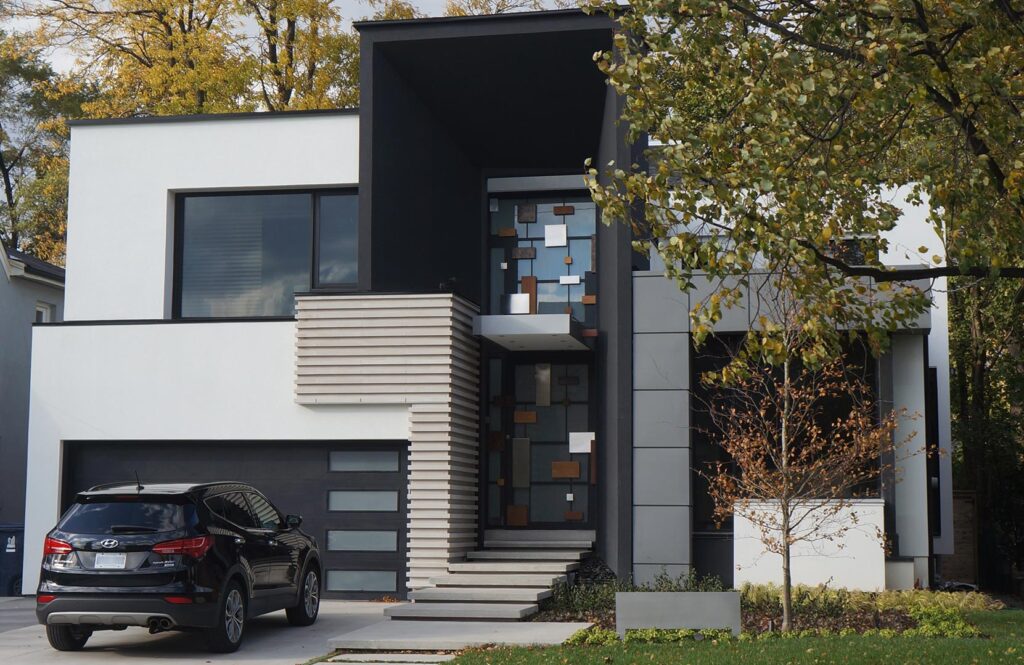 Dual Metal Door
These double-sided doors are produced by expert artisans utilizing metal casting techniques. The theme is modern, allowing the door to blend with both the interior and exterior of the estate's architecture and design.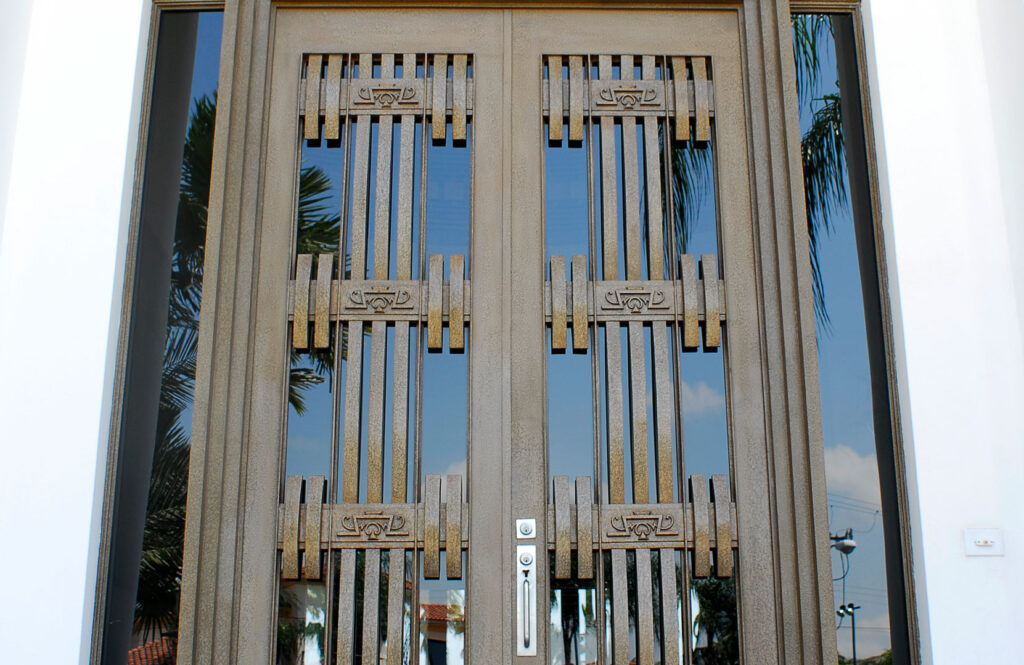 Design Your Dream Custom Door with Art Boulle
Are you in search for a bespoke exterior metal door? We welcome you to book a design consultation or visit our Metal Doors page for more inspiration.